5 winning strategies to fight that traffic ticket

There's no more sinking feeling than seeing those swirling red and blue police lights in one's rear view mirror. A traffic ticket can be far more than an annoyance; the true costs can rise far above the ticket fee.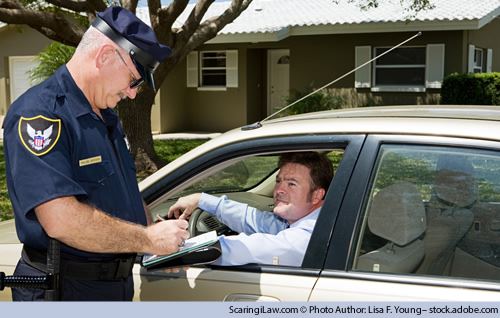 Depending on the traffic code violation you're charged with, coupled with your driving record and accident history, that ticket could cause your auto insurance rates to spike or your policy to be cancelled altogether. That citation might even threaten your driver's license, damaging both your lifestyle and, quite possibly, your livelihood.

So the next time you see that police officer at your window, it may be time to seek legal help. Here are five key ways:
1. Know when to fight
The time to fight that traffic ticket isn't when the officer is writing you up. It rarely pays to argue your case then. Worse, being rude or uncooperative can be counterproductive.

The best tactic is to comply with the officer's requests, responding without embellishment. When it comes time to fight that ticket, you might need the officer to compromise. At the very least, you never want the officer against you.

2. Protect your driver's license

Certain non-DUI moving violations are more serious than others, with a few even resulting in the suspension of your driver's license. One of the most common and most serious is passing a school bus when its red lights are flashing. Being found guilty of this infraction results in an automatic 60-day license suspension in Pennsylvania. In addition, speeding and other moving violations that occur in active work zones often carry the risk of a driver's license suspension, too - even if no one is actually working at the time.

With so much at stake, anyone facing these types of violations should seek legal representation.

3. Add up the points

Pennsylvania, like many states, has a point system associated with most of its moving violations. The more serious the violation or the higher over the speed limit the driver is accused of going, the more points placed against the driver's license. These points can add up, too, meaning that even minor violations can threaten one's driver's license and auto insurance coverage if you are found guilty over a short period of time.

Drivers facing any type of traffic citation should know their score. For example, going 11-15 mph over the speed limit carries a three-point hit. Should the same violation occur in an active work zone, points can double and your driver's license can be placed at risk.

Getting caught going 26 to 30 mph over the speed limit carries a five-point hit. Anything above 31 mph over, and you face a departmental hearing and possible 15-day license suspension.

Motorists must know their scores because the second time a driver accumulates more than six points, he or she faces a department hearing and a possible 15-day license suspension. By contrast, the more time a driver can log between violations, the better. Pennsylvania drops a point a year from one's driving record, rewarding safe drivers.

4. Know the secret code

There's a little-known loophole to Pennsylvania's driver's license point system known as moving violation code Section 3111. This code, which covers obedience to traffic control devices, carries no points.

I often seek an agreement with the police officer and/or magisterial district judge to plead to Section 3111, instead of the original charge. If you were courteous to the police officer who issued to the ticket, most won't object.

The driver still pays a fine, often at the original amount, but the driver saves far more when it comes to avoiding points and the costs associated with increased auto insurance rates and an at-risk license.

5. Let a lawyer drive your case

A lawyer in the driver's seat will assess your overall driving record and points, and review the alleged incident for possible problems with traffic control and enforcement devices.

We will negotiate with both the officer and the district judge. We will appear in court in your stead to handle the resolution of your case. And when need be, we can file a summary appeal of your traffic conviction to the Court of Common Pleas.

Even if you already pled guilty to a traffic violation, we have up to 30 days to appeal your case to county court, where a new round of negotiations with the district attorney's office can be opened in hopes of a more favorable resolution.

All this can save you time, points, insurance costs -- and your driver's license.
Posted By
Scaringi & Scaringi, P.C.
Categories: