Are you a veteran charged with a crime? A special court may help
By Scaringi Law Attorney Karen L. DeMarco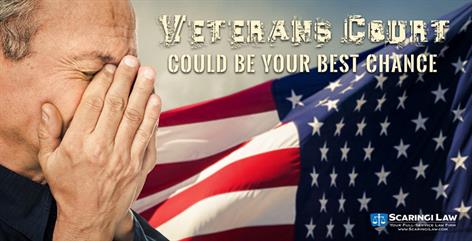 The difficulties many veterans experience transitioning from military life to the civilian sphere have been well-documented. Depression, post-traumatic stress disorder, homelessness and suicide remain ongoing concerns. Often associated with these adjustment issues are criminal charges.
Thankfully, a growing number of Pennsylvania counties recognize that military veterans who run afoul of the law may deserve the benefit of the doubt – along with a break in sentencing – when meting out justice.
This is why a growing number of Pennsylvania counties -- including Dauphin, Lancaster and York counties -- have a Veterans Court for handling charges against military veterans.
But to take advantage of this court, the veteran's criminal defense attorney must know its ins and outs. Admittance is by application only, and adjudication occurs under specialized rules and procedures aimed at giving troubled veterans a second chance.
Attorneys must fight for this special privilege, only for veterans – and then assist the veteran in seeing it through.
What is Veterans Court?
Perhaps the best way to describe Veterans Court is to compare it to a far more common relative -- ARD, or Accelerated Rehabilitative Disposition.
ARD offers many advantages for first-time offenders charged with certain crimes, the most common being driving under the influence. The option is defined as a pre-adjudicated disposition of the charges. This means there is no conviction, as long as all conditions of the ARD program are successfully fulfilled.
Veterans Court operates in a similar fashion, except admittance is limited to military veterans. And Veterans Court actually covers a much broader range of criminal offenses and charges, and is not limited to first-time offenders. It also does not always result in the dismissal of charges, but can offer other incentives. However, like ARD, in order to take full advantage of one's legal options, it's imperative to have an experienced attorney familiar with both the prosecutors and court procedures in the county where charges have been filed.
Qualifying for Veterans Court
A big difference between ARD and Veterans Court is the types of crimes covered.
ARD is available to first-time offenders facing mostly minor or middle-tier criminal charges. The most common is driving under the influence, but ARD also may be available to those charged with theft, harassment and certain drug charges. However, those facing more serious charges, including all felonies, are ineligible.
Not so in Veterans Court. While there are disqualifying crimes, such as rape or homicide, veterans charged with lesser felonies and below may be accepted. And should a veteran advance along the incentivized track toward rehabilitation, serious criminal charges can be reduced and others even dropped.
How Veterans Court works
Like ARD, application is through the District Attorney's office, with the goal of helping the troubled veteran, instead of imposing punishment. And the customized path toward rehabilitation can include mental health treatment, drug and alcohol addiction counseling, and housing and homelessness services, as well as job training and placement. Everything from mentors, veterans groups and community service organizations are among the resources brought to bear to support the troubled veteran in fulfilling his personalized treatment plan.
Depending on the criminal charges, Veterans Court has three different tracks or tiers. At the lower end of criminal charges, it operates much like ARD. Once the veteran completes his or her treatment plan, the charges are dismissed and expunged. In cases where charges are more serious, including felony charges, the successful completion of the personalized rehabilitation plan can result in reduced charges, and an avoided incarceration.
Taking advantage of Veterans Court
Counties that care enough to have a Veterans Court are truly committed to helping troubled veterans get back on track. The biggest obstacle to help is a lack of awareness. Dauphin County has had its Veterans Court for more than four years, yet it still operates mostly under the radar. If one's criminal defense attorney doesn't apply for it, a veteran can miss this golden opportunity at a second chance.
And in Lebanon County, home to the region's major VA hospital, there is no Veterans Court yet. However, an experienced attorney can argue to transfer cases involving veterans to another county so the veteran can take advantage of the court.
Having your case moved to Veterans Court could be the first step to rebuilding your private life after having sacrificed so much for our country.
Scaringi Law attorney Karen L. DeMarco focuses her practice on veterans' law, family law, criminal defense, and civil litigation. She can be reached at 717-775-7195 or by completing our easy contact form.
Posted By
Karen L. DeMarco, Esq.
Categories: