Be Very Cautious When Buying A Used Car From A "Private" Seller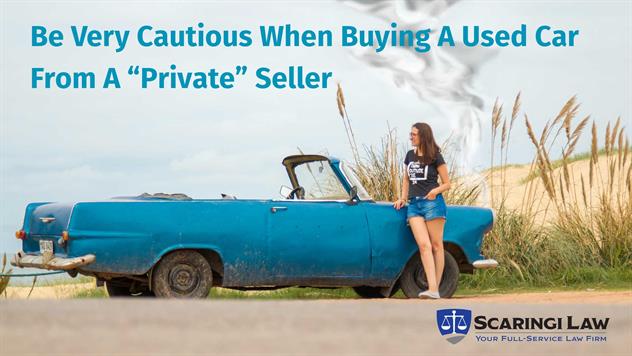 Buying a car is an experience common to most of us. Some buy new cars, others buy used cars. It is the latter that will be discussed in this article, as it is a realm fertile with opportunities for deceptive sellers to prey on unsuspecting consumers.
Let's start with a basic fact pattern:
Jane is interested in buying a used car. She searches the internet and various phone apps to find the year, make, and model of her choice. Jane comes across Bob. Bob is selling the vehicle that Jane wants on Craigslist. Jane contacts Bob, and the two negotiate the price and terms of the sale. Jane accepts the offer. Bob then suggests that Jane meet him in a parking lot to finalize the deal. Money is exchanged and the two then travel to notarize the title transfer. Jane drives away with her new vehicle. The deal is done.
It all seems perfectly aboveboard. It isn't. In this scenario, Bob is actually a Pennsylvania Licensed Vehicle Salesperson. Bob works for a Pennsylvania Licensed Vehicle Dealership. The title transferred to Jane was in the name of the dealership, not Bob.
Why would an auto dealership do this? The simplest answer is that it is an attempt to bypass the stringent Federal and Pennsylvania regulations relating to licensed vehicle dealers, all of which are in place to protect consumers.
The above precisely exemplifies the type of deceptive practices that the Pennsylvania Unfair Trade Practices Consumer Protection Law seeks to discourage, address, and ultimately punish.
To date, Pennsylvania Attorney General, Josh Shapiro, has taken legal action against 20 car dealerships who have engaged in the deceptive practices discussed in this article.
If you believe that you have been deceived by the seller of your vehicle, call Scaringi Law 717 657 7770 to ask about a free consultation.
Posted By
Scaringi Law
Categories: