Big Win for Gun Rights Restoration in Pennsylvania Court!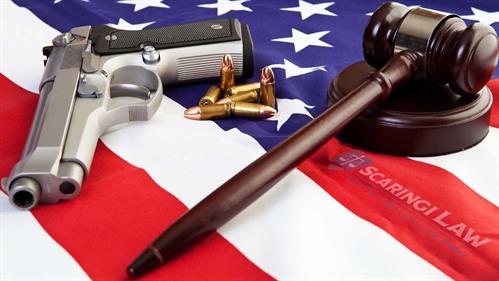 By: Brian C. Caffrey, Esq.
In a significant decision issued on September 28, 2018, the Chief Judge of the United States District Court for the Middle District of Pennsylvania declared that the federal gun control law is unconstitutional as applied to a man who had been convicted of a second driving-under-the-influence offense (it was a second offense for sentencing purposes, as the plaintiff had been granted ARD—Accelerated Rehabilitative Disposition—for his first DUI charge). Moreover, that second DUI offense was at the highest rate of alcohol: the result of a breathalyzer test showed a blood alcohol content of 0.192 per cent.
In Holloway v. Sessions, Raymond Holloway's second offense DUI (for sentencing purposes) was graded a misdemeanor of the first degree, punishable by a maximum term of imprisonment of five years, which resulted in a lifetime prohibition under the federal statute against possessing firearms—any firearm. Plaintiff Holloway sued in federal court, arguing that the federal gun control statute is unconstitutional as applied to him. In ruling on the plaintiff's motion for summary judgment (i.e., judgment as a matter of law), Chief Judge Christopher Conner held that Holloway's second offense DUI does not constitute a "serious criminal offense" under applicable federal appeals court precedent, and that the government had not satisfied its burden of proving that banning Holloway from ever possessing firearms would promote public safety.
The Holloway decision is potentially very important to Central Pennsylvanians who have certain misdemeanor convictions in their backgrounds, but perhaps an otherwise clear criminal record and no other history (for instance an involuntary mental health commitment) that would disqualify them from possessing firearms under the federal gun control statute.
Congratulations to Attorney Joshua Prince of the Prince Law Offices for obtaining this successful outcome. This decision helps pave the way for other Pennsylvanians who are similarly situated and wish to seek a restoration of their firearms rights!
Scaringi Law attorneys have cases pending before the federal district courts on similar "as applied" challenges to the Constitutionality of the Federal Gun Control Act and are hopeful for similar successful outcomes. Scaringi Law attorneys are experienced in evaluating and litigating actions which seek to restore citizens' rights to bear arms under the Second Amendment to the United States Constitution. If you're disqualified from possessing firearms under state or federal law, call our office to ask about a free consultation at 717-657-7770 with one of our firearms law experts.

Posted By
Brian C. Caffrey, Esq.
Categories: