Cannabis and Firearm Revamp on the Horizon?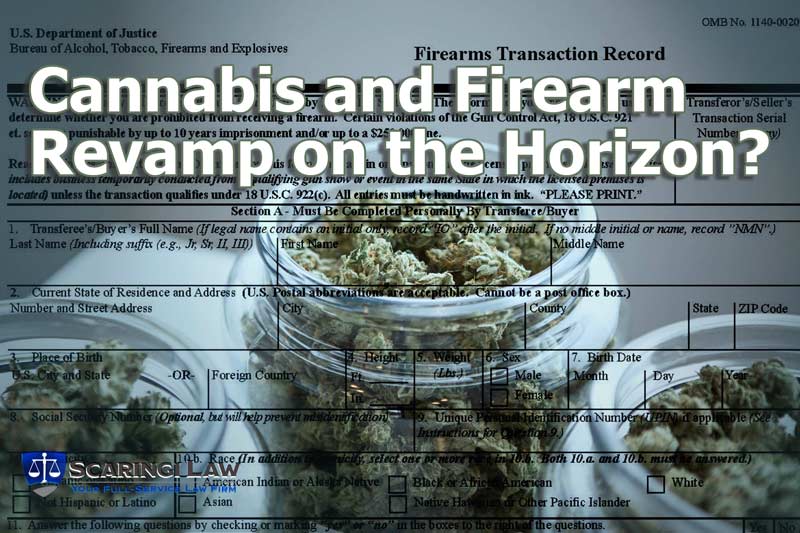 People say that medical marijuana and other cannabis legalization is a back-door way for government to curtail firearms rights. Is this true?
As with many internet memes, there's at least a kernel of truth behind this. Federal law at 18 U.S.C. 922(g)(3) does prohibit possession of a firearm by any individual "who is an unlawful user of or addicted to any controlled substance (as defined in section 102 of the Controlled Substances Act)." This includes unlawful users of marijuana. So, as long as cannabis remains a controlled substance, it doesn't matter whether a state allows you to use marijuana: You're an "unlawful user" under federal law, and thus prohibited from possession of a firearm by federal law. So, using cannabis and possessing a firearm - even at different times – means you commit a felony and risk prosecution.
But a kernel of truth does not a conspiracy make. The very same government that would prosecute an individual for possessing a firearm after consuming a physician-prescribed medication is now making considerable progress toward legalization of cannabis.
Last year, the federal farm bill removed the prohibition on CBD derived from hemp, a lower-THC plant of the same species as cannabis. The Food and Drug Administration has since begun hearings on the regulation of products containing cannabis or cannabis-derived compounds.
This year – beginning with a meeting of the Judiciary Crime, Terrorism and Homeland Security subcommittee on July 10, 2019 – will see action on at least one of several bills pending before the United States Congress regarding the legalization, and potentially the de-scheduling, of cannabis.
The subcommittee will be discussing the Ending Federal Marijuana Prohibition Act, the STATES Act, the Marijuana Freedom and Opportunity Act, and the Marijuana Justice Act. While each piece of proposed legislation has a different intent and different effects, all four would remove cannabis from the list of Schedule 1 drugs under the Controlled Substances Act. Whether cannabis would remain a controlled substance at all is less clear, but if it is removed then the passing of this legislation would relieve cannabis users of the "unlawful" label in states that permit the use of marijuana for the purpose that the person is using it.
Firearms prohibitions may also arise from certain criminal convictions, including any felony conviction or any misdemeanor that could have resulted in a term of imprisonment of more than two years. Those who are prohibited based upon a cannabis-related conviction may also want to keep an eye on the Marijuana Freedom and Opportunity Act and the Marijuana Justice Act, both of which tout the expungement of a variety of cannabis-related crimes, which could potentially restore firearms rights automatically.
As the law changes in this area, you will need an attorney who is knowledgeable in firearms rights to guide you through these developments. If you have questions about your rights, please contact our law office today at 717 657 7770.

Posted By
Robert M. Sakovich, Esq.
Categories: