Kelly M. Walsh, Esq.
Associate Attorney
Attorney Kelly M. Walsh joined Scaringi Law in August 2015 and contributes a combination of wide and diverse experiences and deep legal knowledge to the firm in all her practice areas. She focuses her practice on bankruptcy, family law (including divorce, custody, support, adoption, and surrogacy), tax preparation, tax debt resolution, audit representation, collections, and business law. She is based in our Harrisburg Office and represents clients throughout Central Pennsylvania.
In bankruptcy, Ms. Walsh is admitted to practice in both the Middle District of Pennsylvania and the Eastern District of Pennsylvania. She devotes the majority of her bankruptcy practice to representing individual and business debtors in Chapter 7, Chapter 11, and Chapter 13 cases, but also represents creditors and co-debtors. Ms. Walsh helps individuals discharge or reorganize debts including home mortgages, medical bills and others so that her clients can save their home from foreclosure, keep their cars and other assets, discharge unsecured debt and emerge largely debt free.
Attorney Walsh has been successful in discharging certain difficult debts such as taxes, including personal state and federal income tax debts. She also has been successful in avoiding judgment liens on real estate. While most bankruptcy attorneys handle only individual Chapter 7 and 13 cases, Ms. Walsh also helps businesses reorganize their debt under Chapter 11 or liquidate and dissolve under Chapter 7. Ms. Walsh has developed a particular practice in representing bankruptcy debtors and co-debtors in civil actions seeking monetary damages against creditors for violating the bankruptcy stays.
Due to her extensive experience and knowledge of bankruptcy law, Ms. Walsh has been appointed to the Board of Directors of the Middle District Bankruptcy Bar Association through which she, along with other distinguished bankruptcy attorneys, helps develop and improve the bankruptcy law practice in Central Pennsylvania. Attorney Walsh brings years of relevant experience to her bankruptcy practice, including seven years working as a professional in the collections industry prior to becoming an attorney. She applies her extensive experience negotiating skillfully between debtors and creditors and for both the debtor's and creditor's side depending upon whom she is representing. This unique experience allows Ms. Walsh to better understand the goals of both parties and to be the best possible advocate for her clients.
In family law, Attorney Walsh has developed an extensive practice handling all types of divorce cases from simple low asset cases to those involving complex and highly valuable assets including businesses, retirement plans and pension plans. Attorney Walsh's experience as a business and tax attorney gives her valuable insight into high asset divorce cases. Attorney Walsh also handles child and spousal support, alimony pendent lite and alimony cases. In her support practice, Attorney Walsh has been able to reduce the child support payments of one client based upon his ex-spouse cashing out the retirement funds she received in the divorce case. In other case, Attorney Walsh was able to eliminate her client's spousal support obligation because the spouse was cohabitating with a significant other. Attorney Walsh is a strong advocate for parents, grandparents and third parties in custody cases. Attorney Walsh also conducts an active and rewarding adoption practice in which she helps individuals become families.
Prior to joining Scaringi Law and its Family Law Group, Ms. Walsh worked as a certified legal intern with the Dickinson School of Law Community Law Clinic in Carlisle, Pa. There she assisted a steady stream of clients with divorce, child and spousal support, and child custody cases under the direction of the clinic's supervising attorneys. Ms. Walsh maintains a passion for helping women and families. During her undergraduate studies in Bloomington, Ind., she organized a community service event to make and donate teddy bears to a shelter for battered women and children. She also applied her undergraduate psychology degree by volunteering at a Bloomington halfway-house for women recovering from drug addiction.
Woven together, these experiences have made Ms. Walsh adept at assisting clients who are dealing with the upheavals that often accompany divorce, custody, and support cases. She intends to continue to apply her growing set of skills in fighting for her clients and their children, so they can move on to a new normal as quickly as possible.
In the area of tax preparation and tax debt resolution, Attorney Walsh has helped clients navigate through tax preparation, IRS extensions, payment plan negotiations, and a host of other personal and business tax services. She has helped clients significantly reduce tax debt, successfully navigate tax audits, file current as well as years of past due tax returns, and bring their tax accounts into compliance. Here is a sample of some of Attorney Walsh's successful tax cases:
Attorney Walsh has been successful in defeating a claim by the IRS that crowd-source fundraising monies received by her clients were taxable as income.
She also successfully used the innocent spouse relief provision of the Internal Revenue Code to reduce her client's tax debt arising from a joint spousal return to less than 30% of the amount demanded by the IRS.
Attorney Walsh also successfully defended a business client in an IRS audit concerning unremitted payroll taxes. She was able to ensure there was no criminal referral and reduced his obligation to only a portion of the taxes owed through the Trust Fund Recovery Penalty.
She successfully defended another IRS audit of a business client with the examination changes resulting in a $5,000 refund instead of a $20,000 tax liability.
Attorney Walsh successfully represented an individual client who had failed to file tax returns or remit taxes owed for several years by obtaining for her a refund instead of a tax liability.
Attorney Walsh obtained a penalty abatement and installment plan for client whose retirement loan was converted to an early withdrawal upon her separation from employment.
Attorney Walsh was able to eliminate almost an entire $20,000 tax assessment against her clients who had cashed out of their investment funds.
Attorney Walsh successfully challenged the other parent's child dependency exemption claim and obtained that very claim for her client and the tax credits associated with it.
Attorney Walsh is currently growing the firm's tax services for corporate clients. She continues to develop a highly-focused set of tax services for entrepreneurs, small businesses, and family-owned enterprises. Her expanding responsibilities range from preparing standard and complex business taxes, to advising firms regarding deductions, expenses and employee benefits. She can even outline the tax ramifications of health insurance under the Affordable Care Act.
Prior to joining Scaringi Law, Attorney Walsh worked in Dickinson School of Law's Volunteer Income Tax Assistance program, providing tax assistance for elderly and low-income clients. She supervised other tax preparers for the latter two years of her three years in that program. This experience gives her an exceptional ability to expertly prepare taxes for clients seeking the firm's tax services. She quickly learned how to guide clients in other areas of the practice, understand the tax implications of estate administration, divorce, child support and child custody rulings.
Additionally, Ms. Walsh excels in the area legal of wills and estates. She spent three-years as a volunteer for Wills for Heroes, a dedicated program which provides free basic estate planning, wills, powers of attorney and living wills for first responders.
Ms. Walsh graduated from Penn State Dickinson School of Law, Carlisle, Pa. in 2015. In addition to her work with the VITA and Wills for Heroes programs, she sat on the Carlisle Family YMCA Board of Directors. She was also president of the Trial Advocacy Board; vice president of the Speakers Trust Fund of the Student Bar Association; and vice president of the Family Law Society.
Attorney Walsh is a member of the Dauphin County Bar Association, Cumberland County Bar Association, and a Board Member of the Middle District Bankruptcy Bar Association. She also serves as a subcommittee chair for her homeowners' association, where she organizes her community's annual National Night Out celebration, an event that promotes positive relationships between law enforcement and the communities they serve.
Joined the Firm
Areas of Practice
Bar Admissions
Pennsylvania, 2015
United States District Court for the Middle District of Pennsylvania, 2016
United States District Court for the Eastern District of Pennsylvania, 2017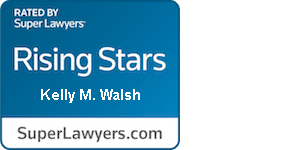 Dickinson School of Law of the Pennsylvania State University, Carlisle, Pennsylvania
Indiana University, Bloomington, Indiana

Major: Psychology
Minor: Biology
Dickinson School of Law Community Law Clinic, Certified Legal Intern, 2014 - 2015
Pennsylvania Commonwealth Court, Judicial Intern
Penn State Dickinson School of Law, Judicial Intern and Research Assistant, 2013 - 2014
Shirley Heinze Land Trust, Land Trust Intern, Summer 2013
Morgan & Pottinger, P.S.C., Paralegal/Litigation Specialist, 2007 - 2013
Cumberland County Bar Association
Middle District Bankruptcy Bar Association
Pro Bono Activities
Volunteer Income Tax Assistance (VITA), advanced certified tax preparer and supervisor
Wills for Heroes, Volunteer
Scaringi Law

"

I really do appreciate your thoughtfulness and determination...

"

I can't thank you enough for what you've already done. I really do appreciate your thoughtfulness and determination to keep my house in my possession. It's all I ever wanted besides my kids. It's not been a great period of my life but I'm trying to make the best of what I have left. Thanks again for helping me. I can't put into words what it's meant, Kelly.

Bio
Education
Employment
Professional & Civic Associations
Community Involvement
Case Results
Blog Entries
Videos
Reviews