Spying or Tracking?
By Scaringi Law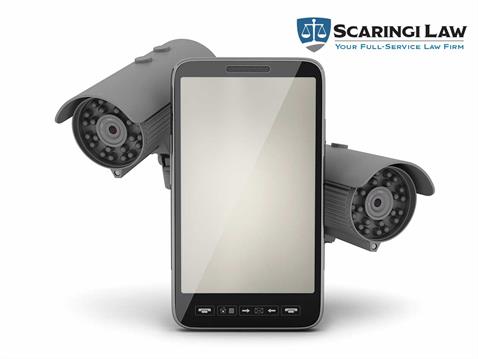 With little fanfare or traditional media advertising, monitoring devices and services have entered the communication market. Proponents call it a tracking mechanism, while opponents call it everything from high-tech stalking to technological abuse. Pennsylvania law deems it illegal in most situations.
One such tool, the spy phone application, can allow a second party to listen in on personal calls, read text messages, view call history, read emails, and more. Some even come complete with GPS tracking capabilities.
To subscribe to these types of services, an app download, to the phone to be tracked, is required from the provider. The costs vary greatly depending on the level of tracking/spying desired.
Who would use such a service? Employers use the service to track workers on the road to insure company phones, vehicles, and time are being used appropriately. Parents of teens use these services to track their children's activities, or merely to ensure no inappropriate texting or "sexting" occurs.
Children of aging, or forgetful parents use services like this to remotely assist the parent with comfort and quality of life monitoring. But the most common scenario is when an individual suspects a cheating partner, and uses the service to validate his or her doubts.
But, is tracking or spying without the target individual's consent, legal in Pennsylvania?
Title 18 of the Pennsylvania Consolidated Statutes states, quite clearly, that a person is guilty of a felony if he or she intentionally intercepts or attempts to intercept oral, written, or electronic communications.
There are two exceptions to this statute:
The party with the monitored phone has given consent to be tracked/spied upon.
The party intercepting information has obtained the correct court order allowing them to do so legally.
In cases where intentional collection of stored communication (e.g., email) without authorization from the owner of said communications, the same Pennsylvania statute deems it to be a misdemeanor, unless the owner consented to sharing the communication, or there is an appropriate court order that allows the seizure of the stored communication.
Therefore, if the goal is to track employees, you need only document their consent. If you think you are being spied on, or tracked, without consent, you can either reset, (wipe your phone to the factory settings), or get a new phone, and configure proper security protocols or settings to limit phone access by anyone other than yourself.
Scaringi Law provides expert legal representation for all cases involving possible privacy violation. If you have possible needs for tracking or spying, please call (717) 775-7195, and a Scaringi Law team member can help you understand the procedures that will insure you stay within the law in accessing any live or stored communications. If you believe you are being tracked without your consent, you can call (717) 775-7195, use our quick Contact-Us form, or chat with a representative 24/7 using the chat icon in the right-hand side of every page.
Posted By
Scaringi Law
Categories: