Busted Budget Blues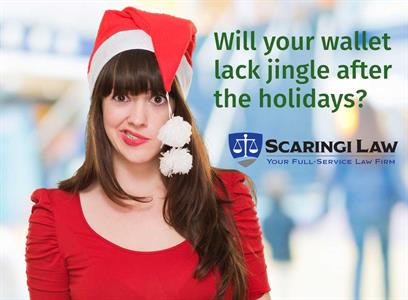 By Erin Komada, Esq.and Kelly M. Walsh, Esq.

With the holidays upon us, it can be easy to get caught up in all the deals offered this time of year. However, if you find that you have fallen prey to an unscrupulous seller, give our office a call to discuss your options. In Pennsylvania, we have a very specific law that protects consumers: the Unfair Trade Practices and Consumer Protection Law. Essentially, this law is in place to protect consumers who were duped into purchasing goods from sellers who employ dishonest practices.
If you fall behind on paying your debts, and collections calls start rolling in, it is easy to shut down and ignore the bills you cannot afford to pay. It is important not to ignore them for too long, though. Under Pennsylvania law, a judgment on a debt automatically turns into a lien on all real estate. Even if you do not own any real estate, that judgment opens the door for creditors to pursue bank attachment or levy of personal items in your home. If the debt is for support, delinquent rent, delinquent student loans, restitution to crime victims, and certain types of criminal fines or penalties, the creditor may also be able to attach your wages. A creditor with a judgment has leverage over you, and is less willing to negotiate. If a creditor files a lawsuit against you, contact us right away. We may be able to resolve that debt for less than the full balance you owe by raising legal defenses in the lawsuit, negotiating a reduced settlement with the creditor, negotiating an affordable monthly payment arrangement, or filing bankruptcy. If your creditor has already obtained a judgment against you, we may still be able to resolve it. In some cases it may even be possible to resolve the debt and remove the lien from your home without payment to the judgment creditor.
If you have a large balance of outstanding debt, Call Scaringi Law at 717 657 7770 to schedule a consultation and find out what our attorneys can do to ease or remove the burden of debt from you.


Posted By
Erin Komada, Esq and Kelly M. Walsh, Esq.
Categories: