Distracted Driving Can Do Disastrous Harm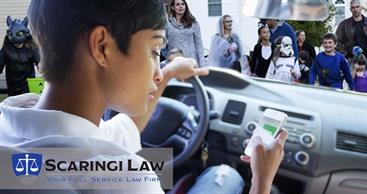 Despite its incredibly dangerous repercussions, many people continue to text and drive, placing themselves and others at serious risk. Cell phone usage is one of the leading causes of accidents caused due to distraction, as it is one of the most negligent decisions a driver can make. Because people are so connected to their cell phones at almost every part of the day, it can be difficult for someone to detach while driving or stuck in traffic. Unfortunately, teenagers are most likely to text while driving--and this is an epidemic our legal team at Scaringi Law wants to tackle and eradicate for good.
The truth of the matter is, no text message is quite as important as someone's life. Choosing to send a message while you are behind the wheel may be the very last thing you do, as taking your eyes off the road is incredibly hazardous. Texting and driving is cognitively, manually, and visually distracting, and the National Highway Traffic Safety Administration strongly advises against it. According to the NHTSA, over 3,400 people died in 2015 as a result of distracted driving. There are a number of negative consequences to car accidents caused by texting and driving, including injuries as minimal as whiplash, to something as serious as wrongful death.
Contact Our Harrisburg Personal Injury Lawyers Today
If you have been harmed or injured as a result of a distracted driver who was texting while behind the wheel, our Harrisburg personal injury attorneys want you to know you have rights. Our trusted legal team understands this must be an incredibly challenging time, as you are likely facing loss of work and wages, costly medical bills, and emotional distress in the form of pain and suffering. This is why we at Scaringi Law work so tirelessly to advocate on behalf of our clients, until their case is resolved as seamlessly as possible.
Interested in scheduling an initial consultation with a member of our firm? Contact us by calling (717) 775-7195.
Posted By
Scaringi Law
Categories: