Chapter 7 vs. Chapter 13 Bankruptcy: Which is For You?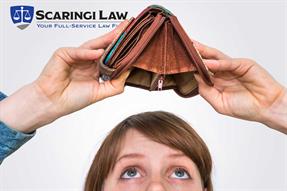 If your debt is building and you don't see any way out, you might need to consider filing for bankruptcy. However, once you've decided to file, you will now need to figure out which type of bankruptcy is best for you. The most common forms of bankruptcy, Chapter 7 and Chapter 13, both have their benefits and their drawbacks. Before you decide what to do, consider the facts about each and decide which might be best for your situation.
Chapter 7 Bankruptcy
Most people choose Chapter 7 bankruptcy because it eliminates all of your unsecured debt. It is also referred to as liquidation bankruptcy because you can liquidate some of your assets in order to pay off your debts and start fresh. The types of debts Chapter 7 covers includes personal loans, credit card debt, medical bills, and sometimes student loans.
In order to qualify for Chapter 7 bankruptcy, you must first pass the means test. The means test evaluates your income and pairs it against the average income in your state in order to determine where you stand in comparison to the population. If you are below the median income in your state, you can file for Chapter 7.
Chapter 13 Bankruptcy
Those who earn too much to qualify for Chapter 7 must then file for Chapter 13. While filing for Chapter 13 bankruptcy is often more expensive than liquidation bankruptcy, it certainly has its advantages. Individuals deemed capable of making monthly payments towards their debts will qualify to file for Chapter 13, also called reorganization bankruptcy. Unlike with Chapter 7 bankruptcy, individuals who file for Chapter 13 are free to retain all of their properties and assets, rather than liquidating them to pay a portion of their debts. However, the debtor must create a financial plan to reconcile a portion the outstanding financial obligations.
Chapter 13 bankruptcy allows individuals and families to retain their homes, avoid foreclosure, retain business property, and regain financial stability. By making a steady monthly payment towards outstanding debts, the debtor can start fresh after a set period of 3-5 years. The duration of the required payments depends on the income and financial means of the debtor, and the amount of debt.
The Key Differences and Major Benefits
For those incapable of making any monthly payments towards their debts, Chapter 7 is most definitely the best choice. However, those who file for liquidation bankruptcy may lose a few substantial assets, including the family home. While it is possible to protect certain assets or properties, this is not always guaranteed.
On the other hand, those who can make payments towards a portion of their debts might be better off choosing to file Chapter 13. Although this route is more expensive and takes drastically longer than filing for Chapter 7, (Chapter 13 takes between 3-5 years, while Chapter 7 could take 3-5 months), it could enable you to retail all of your assets.
Depending on your income, the amount of debt you face, and your personal preferences, either Chapter 7 or Chapter 13 bankruptcy could serve you well. For additional help figuring out which debt resolution is best for your financial situation, consider visiting with an experienced bankruptcy attorney at our firm.
Contact Scaringi Law today to get help with your bankruptcy case from our Harrisburg business lawyers.

Posted By
Scaringi Law
Categories: