Sharing Financial Information In A Divorce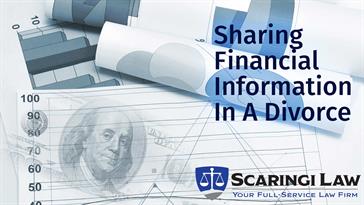 In divorce litigation, especially when there are marital assets to be divided, the parties must exchange information and documentation. In order to work toward a marital settlement agreement and/or prepare to appear before a divorce master, the parties and their attorneys need to learn as much possible about the entire financial picture of the marriage. In almost any marriage, one party will have access to certain information or documentation that the other party does not. Perhaps one party has always prepared the tax returns but the other party handled the regular payment of bills. In this kind of situation, the parties can exchange copies of tax returns and information concerning the payment of bills so that each has all of the relevant information about these issues.
In many divorce cases, the parties just turn over these documents and pieces of information voluntarily when asked by the opposing party. This is informal discovery. If a party is refusing to turn over such information, the power of the courts can be invoked and the opposing party can engage in formal discovery. If the obstinate party continues to refuse to turn over documentation in the face of formal discovery requests, they can face sanctions from the court.
If you are considering or undergoing a divorce, contact an experienced Scaringi Law divorce attorney 717 657 7770 to explain your rights and ensure you get your hands on any pertinent documentation needed to accomplish a fair distribution of assets.
Posted By
Scaringi Law
Categories: