How Separated Families Can Lower Stress Around the Holidays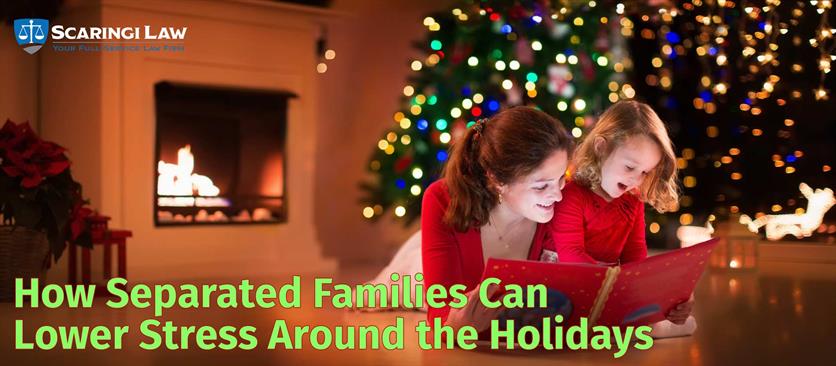 By Kelly M. Walsh
The holidays are often a stressful time. There is a lot to plan, a lot of bustle and activity, and a lot of preparations that need to be done. You might have to travel, and there might be challenges coordinating plans with family members. Planning for the holidays gets a lot harder when you also need to coordinate custody arrangements. There are a few things you can do to lessen the strain, though.
Communicate early and communicate often
Keep in mind that while you are making your holiday plans, there is another family trying to make holiday plans, too. Your kids should be able to spend the holidays with both parents, so it is essential that you coordinate to ensure there are no scheduling conflicts. You need to tell the other parent what days you are thinking of scheduling your holiday celebration, and if your plans require additional time for travel. Ask the other parent to confirm if they agree for you to have that time period, and that it does not conflict with their plans. Make sure you allow enough time for the exchange, so you don't miss your flight if someone runs late or gets stuck in traffic. You should also talk about how you will transition back into your usual custody schedule after the holiday.
Ideally, you should communicate in writing to ensure there is a record of the agreement you reached. An email or text message works well for most people. In some cases, it might also make sense to have a shared calendar. There are apps and websites, such as Google Calendars, that allow you to share a calendar with another person. That way you can ensure you both know the plan and have it saved on your calendars to avoid mistakes and unintended scheduling conflicts.
Get an agreement before you finalize your plans
Before you commit to a date and book your travel plans, make sure the other parent has already agreed, preferably in writing. You can make custody arrangements by agreement, but there has to actually be agreement on both sides. The main source of holiday custody stress comes when one parent makes a binding plan without consulting with the other parent, then finds out too late that the other parent will not agree. That puts you in the uncomfortable position of trying to back out of plans you committed to with family members and cancelling travel plans for which you might not be able to get your money back. Unless your plan falls within the time you are allotted in an existing custody order, you must have the other parent's agreement. Get the agreement before you commit to a plan.
Be Flexible
Holidays are in high demand in custody cases. Most people want to celebrate the holiday on the day of the holiday, and they want to do it with their kids. The trouble is, when the family separates, both parents are fighting over that same day. Although there are cases in which one parent will agree to give the other parent the day of the holiday every year, it is uncommon. Usually, parents reach a compromise in which they alternate years, and trade off one holiday for another. Maybe the first year, Mother has Thanksgiving Day and Father has Christmas Day, and the second year they switch. Usually there is an agreement for the other parent to have some time for a separate celebration a couple days earlier or later, so the kids have one Thanksgiving with Mom's family and another one with Dad's family.
Extra stress comes into the situation when not only do Mom and Dad have to compromise and be flexible about the day they celebrate a major holiday, but so do grandparents, aunts, uncles, cousins, and other extended family members who want to celebrate with them. Maybe you understand that you can't have Christmas every year, but someone else in your family does not. Talk to them about it. Make sure they know what your custody schedule is so they know the limits of your availability.
Get a Custody Order
If you can't reach an agreement, the default rule is that you follow what is in the custody order. If you don't have a custody order, or if your most recent order is out of date, you should consult with an attorney and find out what you need to do to get a current custody order in place. Make sure your attorney knows in advance what matters to you in a custody schedule. Your attorney will always need to know about your work schedule and any recurring unavailability, such as periodic job training, business travel, or a military drill schedule. They will also need to know about the child's school breaks and scheduled activities. If you want to make sure your child can always celebrate holidays with a cousin who is also on a custody schedule, you should share that information, too. Your attorney can then take you through the legal process to help you get a binding custody order that you can rely upon and enforce if the other parent gives you a hard time about holiday plans.
Ask Scaringi Law Family Attorneys about a free consultation, call 717 657 7770.

Posted By
Kelly M. Walsh, Esq.
Categories: