How To Avoid Common Holiday Injuries
As the holiday season nears, people throughout Pennsylvania are getting ready for cool weather and countless end-of-the-year festivities. Throughout the month of December, people often attend holiday parties, reconnect with old friends, visit extended family, and decorate for Christmas. No matter what's on your agenda for the coming winter, you should be on the lookout for any potential dangers.
Find out what the most common winter holiday injuries are and discover what you can do to avoid them.
Slip and Fall Injuries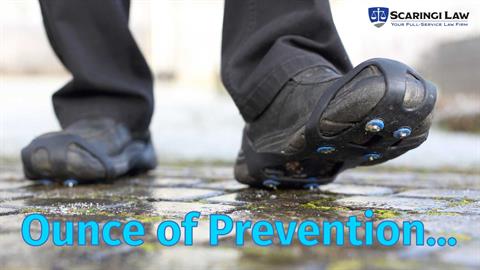 Slip and fall injuries are always a potential danger, but during the winter falls become far more likely, and more damaging. With winter holidays comes cool weather, which means rain, snow, and ice. Icy roads and sidewalks can become extremely slick, and rain tracked indoors can make for slippery surfaces. For this reason, slip and fall injuries tend to rise during the winter months. In order to avoid these hazards, always wear the proper footwear and look out for any slick surfaces.
Decorating Dangers
Although decorating can be a fun tradition, it can also be quite dangerous. Putting up Christmas lights, for example, injures countless homeowners every year, either because they slipped on the roof or fell from their ladder. Several other types of decorating issues might also arise, whether they involve simple cuts while wrapping presents or serious breaks and burns.
Fire Hazards
Winter weather often calls for cozy nights in by the fire, or perhaps with a few candles. Several holiday traditions call for candles and warm lights, which can be great fun and beautiful to look at, but extremely dangerous under the right conditions. Lighting the menorah might be hazardous if any flammable materials are lingering by, just as leaving lights on a dry Christmas tree can spark a flame. To sidestep these dangers, always make sure any lights or fires are in a controlled environment.
Car Crashes
Even though car accidents are a leading cause of injury all year-round, they can be especially dangerous during the winter months. During December, holiday travel is at an all-time high, which makes streets more congested and dangerous. Also, studies show that there are more drunk drivers on the road around the holidays. To avoid possible DUI accidents, always appoint a sober driver, and try to avoid driving late at night when drunk drivers are more likely to be on the road. Icy roads are also a serious concern during the winter, so try not to drive when the weather is poor and try to make your plans around dangerous driving conditions.
In order to make the most of your holiday season this year, make sure you do everything you can to avoid any dangerous or hazardous situations. Do your part to stay safe and celebrate Christmas and the winter holidays without serious injury.
Unfortunately, sometimes there is only so much you can do to prevent an accident. If you or a loved one was injured in an accident due to someone else's error or negligence, our firm is here to help. Our Harrisburg personal injury attorneys can help determine what caused your accident and who may be liable. We have ample experience working with injured individuals, and we want to help you too.
Contact Scaringi Law to discuss your case with our Harrisburg personal injury lawyers.
Posted By
Scaringi Law
Categories: