Is Your Small Business Insured Against Employment Lawsuits?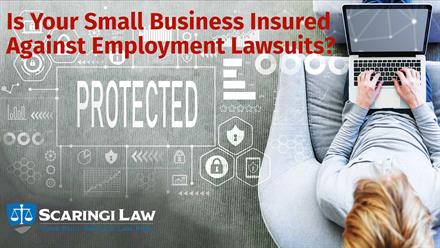 Certain insurance programs that protect employers, such as Workers' Compensation Insurance and Unemployment Insurance, have been in existence for decades and most employers are required by law to participate in them. Another insurance product is newer and voluntary: Employment Practices Liability Insurance ("EPLI"). Small business can be particularly vulnerable to expenses associated with defending against claims of workplace discrimination or harassment. Defense costs in these suits can be as high as $50,000 or more, plus the amount of a verdict and costs if the employer does not prevail at trial. EPLI can help protect against these expenses, but small business owners should be sure they understand exactly how an EPLI policy works.
Most EPLI policies cover discrimination and harassment claims based on categories protected by federal law--age (over 40), sex (including pregnancy), race, religion, color, disability, genetic characteristics, and national origin. Employers must be sure that an EPLI policy also covers other types of discrimination that are prohibited by the state, county, or city in which they operate. For instance, Pennsylvania law protects against discrimination based on having a GED rather than a high school diploma. In Maryland, employees cannot be discriminated against based on their age, even an employee is discriminated against because he or she is under 40. Although there is now some argument that state and federal law prohibit discrimination based on sexual orientation, Philadelphia and other cities and some counties have ordinances that specifically prohibit such discrimination. Employers should be sure there is language in an EPLI policy that covers claims for any type of harassment or discrimination "prohibited by law" or "prohibited by the laws of the employer's jurisdiction"; otherwise, an employer may find itself without coverage.
Other types of claims that are typically covered by EPLI include wrongful termination, breach of contract, intentional infliction of emotional distress, interference/retaliation claims under the FMLA, and discrimination or failure to accommodate claims under the ADA. Emotional distress damages are generally covered as well.
Some kinds of claims are rarely covered by EPLI policies. These include claims for violations of the FLSA or state wage and hour laws, ERISA, COBRA, the NLRA, the WARN Act, or state-law equivalents. Typically, civil fines and penalties and criminal penalties are also excluded from coverage. An employer should also be certain that a policy that covers punitive damages is enforceable in its jurisdiction because some states prohibit insurance policies that cover punitive damages for public policy reasons. Employers should also remember that the EEOC and state and local agencies and commissions can bring claims on behalf of an employee or employees--technically, these are not claims brought by an "employee." Given that claims by government agencies often result in the most expensive lawsuits and onerous settlement conditions for employers, employers should be absolutely sure that these claims are covered.
Another important issue employers should consider is whether they will be able to hire their usual attorney or attorneys to represent them in a covered employment case or whether the EPLI carrier will assign panel counsel to represent the employer's (and carrier's) interests. Many small businesses have a trusted advocate that knows the company's business, risk tolerance, and overall approach to litigation with employees. EPLI carriers are often unwilling to pay the fees of the attorney a small business knows and trusts to represent them because the attorney does not specialize in employment law. An employer should notify the EPLI carrier about a trusted advisor attorney during the underwriting stage to be sure that this attorney will be able to lead and control litigation covered by the EPLI policy. The growing trend for EPLI carriers is to permit small employers to designate their own counsel during underwriting so the carrier can investigate the attorney and determine if the attorney's experience with employment law cases is sufficient to satisfy carrier's requirements. It is critical that this issue be raised during underwriting or, at a minimum, prior to the threat of litigation if an employer wants to be sure its own counsel will handle a covered employment case.
Small businesses that need advice about an EPLI policy or that want to designate their own counsel to represent their interests in employment litigation covered by EPLI should consult with experienced employment counsel.
Here at Scaringi Law, we have knowledgeable, experienced business law attorneys who can review, guide, and assist you and explain an EPLI policy, find any gaps in coverage, and answer your questions about EPLI in general. To ask about a free consultation call 717 657 7770.
Posted By
Scaringi Law
Categories: