The New Clean Slate Law-Limited Access 2.0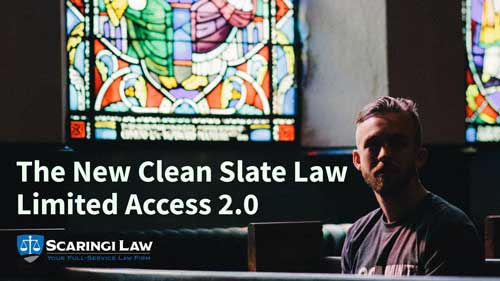 By Tony E. Miley, Esq.
In December of 2018, the Pennsylvania Crimes Code was amended to include a new provision that the media has dubbed, "Clean Slate Law". 18 Pa.C.S. §9122.2. Pennsylvania became the first state in the country to pass a law of this kind. The policy of the law is a recognition that, persons convicted of crimes, suffer hardships because of their convictions, long after they have served their sentence. The idea is that a clean slate remedy will create a strong incentive for offenders to not reoffend, and the Commonwealth will save money through less administrative costs that naturally occur in the processing of recidivists through the system. However, the Clean Slate Law seems to imply something that it is not—a clean slate.
Unfortunately, the perception that many people have of this law is that, the Clean Slate Law is synonymous with "expungement". It is not. The Clean Slate Law, in reality, is Limited Access 2.0. A few years ago, Pennsylvania amended the Crimes Code to include §9122.1-Limited Access. Under §9122.1, an individual who has been "free of arrest or prosecution following conviction, confinement or supervision, whichever is later, for a period of 10 years" from a narrow band of misdemeanors, could petition the court for a limited access order. A limited access order, if granted by the court, would preclude the dissemination of arrest and conviction information to anyone, including employers. Law enforcement is the only entity that would have access to your criminal history information. Under Limited Access, your criminal record is not expunged, it is merely covered up.
The Clean Slate Law is only limited access; it is not expungement. The key difference between §9122.1-Limited Access and §9122.2-Clean Slate, is that limited access occurs automatically, if all conditions of a sentence have been satisfied by the individual offender. Also, just as the state "giveth", the state can "taketh" away. A Limited Access order can be vacated. If an offender subsequently reoffends with a misdemeanor or felony, after a Limited Access order is entered, the court will vacate that order upon motion of the prosecuting attorney.
Clean Slate does not apply to any assault offenses. Clean Slate also does not apply to convictions for cruelty to animals, corruption of minors, indecent exposure or any felonies. In the case of felonies, if an offender has a felony conviction in his or her background, regardless of the amount of time, he or she is prohibited by law from a Limited Access order under §9122.2, even if the current conviction would otherwise qualify.
Clean Slate provides some relief to offenders, but it is not the expungement relief that many people believe that it is.
To ask about a free consultation with a Scaringi Law attorney about limited access and expungement options, call 717 657 7770 or 1 877 LAW 2555.
Posted By
Anthony E. Miley, Esq.
Categories: