Traffic Violations Can Park You In a Cell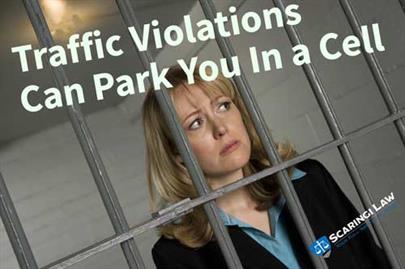 Every traffic violation carries with it, by statute, a certain penalty of a certain range of penalties. Minor violations may carry nothing more than a $25 fine. More serious violations result in points being assessed to one's license or even suspensions. What surprises many people is that traffic violations can send someone to jail. Sure, they're aware that DUIs can lead to a prison stint, but not aware other violations that can lead to jail time.
Driving Under Suspension is one such law. If you are caught driving while your license is suspended for a prior DUI, you will face a potential sentence of up to 90 days in jail. If you have alcohol in your system at the time you are caught, the consequences will, of course, be more severe and could include another DUI charge depending on the amount of alcohol in your system.
If you are caught driving while your license is suspended for something other than DUI, the consequences are not as immediate. For a first offense, the penalty is a fine. For a second through fifth offense, a judge has the discretion to sentence you to anywhere up to six months, but imprisonment is rare in this circumstance. For a sixth or subsequent offense, though, a judge must, by law, sentence you to at least 30 days incarceration. It is important to note that driving under suspension convictions also result in an additional year of license suspension.
Many counties offer to allow offenders meeting certain requirements to serve their incarceration time on house arrest rather than in the actual jail. If you are facing a driving under suspension prosecution, contact Scaringi Law, 717 657 7770, to examine your options to fight the charge or work out a deal that keeps you out of prison.
Posted By
Scaringi Law
Categories: