Criminal Law - Ignorance Is Not Bliss
By Nichole A. Collins, Esquire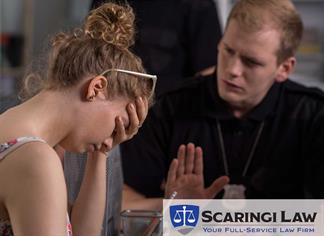 Never been in trouble with the law before? Then you may be unaware of common investigatory tactics that can and will be used against you. When it comes to dealing with the police, ignorance is not bliss.

Let's say you are at work, it is 2:00 PM on a dreary Monday, and you receive a call from an unknown number. You check your voicemail and receive the following message, "good afternoon Mrs. Smith, this is detective John Law-Enforcement from the local county police department. I'm going to be around until about 6:00 PM this evening, and I didn't want to bother you at work, so if you can stop this afternoon on your way home from work, I would greatly appreciate it. It shouldn't take too long, I just need a little bit of information from you. My number is 717-555-4567. Talk to you soon." Curious as to whether the officers identified that person that backed into your car a couple of weeks ago and didn't bother to leave a note, you call the detective back and confirm that you will be in at 4:30 PM.

Upon arrival at the police department, you are taken to a conference room and offered some mediocre coffee. The detective strolls in with his partner, and they both offer you a warm smile and a friendly greeting. "Before we get started ma'am, we just have to confirm that your name is Jane Smith, today is November 13, 2017, and your current address is 123 South Green Street. Is that correct?" Upon affirmation, the detective goes on to affirm that you are there voluntarily and you understand that you are free to leave and you are not obligated to speak with him. "You mind if this conversation is audio and video recorded?" "Not at all," you reply. You start to ask about your car, and pretty quickly you discover that the reason you were brought in for questioning has nothing to do with the basketball size dent on your rear driver's side bumper. Instead, the detectives want to know about an incident that took place last weekend, involving your husband and your ex-boyfriend.

Of course, you recall the evening they are asking about, and you assume they are investigating your no-good crook of an ex-boyfriend, so you speak with them candidly and answer the questions you are asked without hesitation. Having not been around the block before, you are operating under the misguided premise that maybe the detectives will help you. You assume the police are your friends, and that they are trying to help you. Little do you know, the information you provide during this "friendly meeting" will be used to file criminal charges against you. Now you are looking at felony charges for robbery, conspiracy, and kidnapping. What should you have done differently?

Calling the detective back was perfectly okay. But, instead of rushing to the police station to answer questions, schedule a meeting later in the week. Consult with an experienced criminal defense attorney prior to the scheduled meeting. Your attorney can evaluate the facts of your situation, and weigh the pros and cons of volunteering information that can and will be used against you. Always speak with an attorney prior to giving written or verbal statements to the police. Your future is too important to go at this alone.

Call 717-657-7770 and schedule a initial consultation with me BEFORE you volunteer information to the police.
Posted By
By Nichole A. Collins, Esquire
Categories: