The Unexpected Value of Consulting an Attorney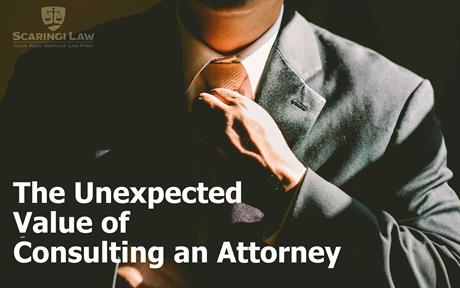 By Robert M. Sakovich, Esq,
You never know what good news you might get when you consult with an attorney.
In a recent consult, a man came to my office seeking modification of a marital settlement agreement. He agreed, years ago, to pay his ex-wife a certain dollar amount each month – for life. He came to our office believing this would be incredibly unfair in his retirement. He wanted to modify or eliminate the payment in retirement. His idea was not misguided: In some cases, retirement can constitute a substantial and continuing change in circumstances justifying an adjustment of court-ordered alimony.
However, the first place the court looks to modify alimony is the terms of the agreement. The terms of this particular marital settlement agreement were extremely unfavorable to change. Given a comparison of the financial circumstances of the parties and the language of the contract, I advised him that it would be a very difficult and costly fight that he would most likely lose. However, rather than giving up there, we continued to discuss whether any other, less obvious factors might sway the argument in his favor.
Our review of the agreement did not help us find factors in favor of change. But, it did reveal that the "alimony" was actually fashioned as a delayed distribution of a certain retirement account. Viewing the agreement in this light revealed an unexpected twist: He came out ahead in the divorce!
Ignoring that particular retirement account and the scheduled payments to his ex-wife that were meant to compensate her for it, we found that this man had left the marriage with slightly more than half of the marital estate. Then, adding back in the retirement account and the monthly payments he makes to his ex-wife, we found that he actually increases his portion of the marital estate with each passing month, and ultimately will come out ahead based on the terms of the agreement.
After our consult, this man did not retain me. There was no need for my services. But still, he left our office a much happier man, comfortable in the knowledge that he did not "lose" his divorce and he is not overpaying his ex-wife. He entered my office expecting bad news after having received similar bad news from other attorneys regarding the unlikelihood of modifying his alimony; he left my office relieved of his regret at entering into a "bad" agreement years ago.
He thanked me for taking the time to break it down, and for seriously considering the possibility of challenging the agreement even after seeing the initially unfavorable terms. He explained that in speaking with other attorneys, he had never had one examine the facts of his case as deeply as I did in our one-hour consult.
It pays to consult with an experienced attorney before taking legal action. At Scaringi Law, we work hard to determine the best course of action for you – even if that means not hiring us. Of course, we would hope that when you do need to hire an attorney, you hire Scaringi Law!

Posted By
Robert M. Sakovich, Esq.
Categories: