Pa Judge Says Pa's Registration Requirement for Out-of-State Businesses Doesn't Create Jurisdiction in Pa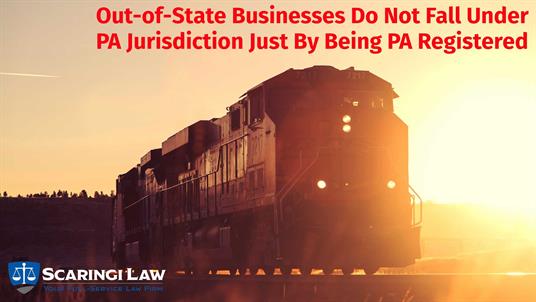 By: Marc A. Scaringi, Esq.

A Philadelphia Court of Common Pleas judge has dismissed a complaint filed in that court against Norfolk Southern for lack of personal jurisdiction. Norfolk Southern is a Virginia corporation with a principal place of business there. It is also registered to do business in Pennsylvania. Under current Pennsylvania statutory law, out-of-state businesses that register to do business in Pennsylvania consent to "general jurisdiction" – including being sued here. However, a Philadelphia Judge presiding over the case Mallory v. Norfolk Southern Railway Co. has rejected the plaintiff's claim – that a foreign corporation simply registering to do business in Pennsylvania subjects that corporation to personal jurisdiction in Pennsylvania. The court held the Pennsylvania statute that compels the foreign corporation to register in Pa as a condition to conducting business here violates the due process clause of the 14th Amendment to the U.S. Constitution. The Due Process clause limits the power of Pennsylvania courts to render a valid personal judgment against a non-resident defendant like Norfolk Southern. In fact, no parties to the lawsuit had any connection to Pennsylvania other than Norfolk's Pa business registration and the alleged injury did not occur in Pennsylvania. It appears the plaintiff was forum shopping. The plaintiff likely chose Philadelphia because of its reputation for high jury awards in injury cases. But the plaintiff ran into a Philadelphia Judge who is concerned about the Rule of Law, protecting interstate federalism and the Constitution. This Philadelphia trial court opinion has been appealed to the Pa Superior Court. It will be watched closely by corporate attorneys and out-of-state businesses conducting or wishing to conduct business in Pennsylvania.

If any out-of-state business has any questions about registering and conducting business in Pennsylvania do not hesitate to contact me at 717-657-7770.

Posted By
Marc A. Scaringi, Esq.
Categories: