What Does an Employment Law Attorney Do?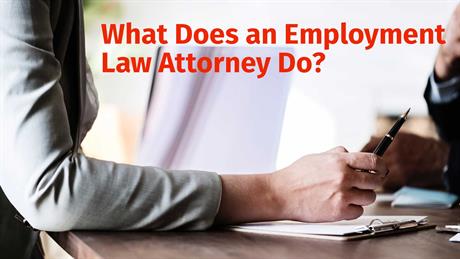 When it comes to dealing with legal disputes between employees and employers, it's always best to seek legal guidance from an expert. Employment issues can get out of control in no time, especially when arguments break out and tensions are on the rise. In order to protect your interests, either as an employer or employee, it's important that you have an experienced employment lawyer on your side.
If you find yourself in need of an employment lawyer, it's important for you to understand what you should expect from your legal advocate. A divorce lawyer obviously helps you with your divorce, a bankruptcy attorney protects you during bankruptcy, but some legal areas, like employment law, are a bit more difficult to grasp. In order to prepare yourself for what's next, make sure you know what to expect from your employment law attorney.
Common Types of Employment Law Disputes
Employment law deals with any type of workplace dispute. This includes any issues with contracts, unlawful hiring, unlawful firing, or other arguments that may arise between coworkers or employees and employers.
Employment lawyers often help with the following types of disputes or issues:
Discrimination claims
Unemployment compensation
Employee benefits
Federal employment legal disputes
Wrongful termination
Compensation disputes
Enforcement of agreements and contracts
Compliance with federal and state regulations
Review of employment documents
Review of business contracts
Why You Need an Employment Law Attorney
Working with an employment lawyer helps you rest easy knowing that someone with ample experience and legal expertise is in your corner. There are several technicalities involved when it comes to employment law disputes, and having an attorney on your side can help you stay on top of upcoming deadlines and any issues that pop up. Sometimes paperwork can be confusing and contracts might not be what they seem, which is why having an employment lawyer on your side is crucial if you want to protect your interests. Your employment lawyer can review contracts before you sign them, help you navigate confusing claims, handling the legitimate ones and debunking any unfounded claims that come your way.
If you need help with an employment law dispute, don't wait. Contact Scaringi Law 717 657 7770 today to discuss your case with our Harrisburg employment lawyers.


Posted By
Scaringi Law
Categories: