Rehabilitation Can Result in a Better DUI Sentence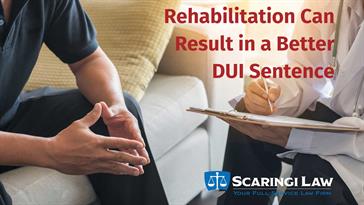 Driving Under the Influence (DUI) carries criminal penalties including jail time. However, options and defenses are available.
I once represented someone charged with a second offense, highest rate DUI. If he had been convicted as charged, he would have done a minimum of 90 days in prison. This individual had, however, made tremendous strides in his life since the time of incurring the DUI charge. He had attended inpatient alcohol rehabilitation, completed the 30-day program, and remained alcohol free ever since. Acts of rehabilitation can influence sentencing. Due to the progress he had made, the district attorney was comfortable offering a plea to a high rate DUI as opposed to the highest rate DUI that was charged. High rate DUI, as a second offense, carries a minimum of 30 days in jail. My client accepted the deal. At sentencing, I was able to convince the judge to grant time credit for the 30 days my client spent in rehab. As a result, he never had to set foot in a jail cell.
If you are charged with DUI, contact me at Scaringi Law 717 657 7770 to discuss your options and find out if there is a way to beat the charge or minimize the sentence to avoid jail time.
Posted By
Scaringi Law
Categories: