Family & Medical Leave Act ("FMLA") - The Nuts & Bolts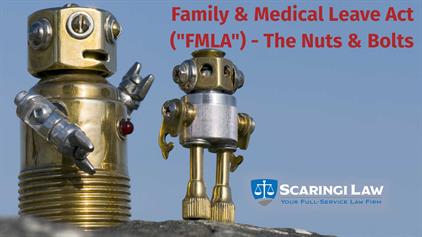 By Keith E. Kendall, Esq.
Most employees who have worked at least 1,250 compensable hours, during at least the 12 months prior to a requested leave of absence - including most public servants - are generally protected from termination during absences resulting from (1) birth or adoption of a child; (2) care of an immediate family member with a "serious health condition;" or (3) the employee's care of his/her own serious health condition. Employees that meet these criteria are generally entitled to preservation of their employment during 12 weeks of unpaid FMLA leave per every 12-month period of employment. To the extent that the employee has earned paid leave, such leave may generally be substituted for unpaid, FMLA leave. Employers are required to reasonable notice of the intent to take FMLA leave or, in the event of an emergency use of the leave, prompt notification. Employers are also entitled to make reasonable inquiry into the basis/need for leave, to allow the employer to determine whether or not requested leave qualifies as "FMLA leave." FMLA leave may, under certain circumstances, qualify for intermittent use so long as the employee's medical certification or other information meets the requirement for designation of FMLA leave as requiring "intermittent" use. During FMLA leave, health care coverage must generally be maintained by the employer for the covered employee. Upon return from FMLA leave, a covered employee must be restored to his/her original job, or to an "equivalent" job with equivalent pay, benefits, and other employment terms and conditions. The Act also contains enforcement provisions, that prohibit interference with FMLA leave use.
These are just a brief snapshot of the general provisions of the Family and Medical Leave Act. For a comprehensive application of the Act to an FMLA issue you may encounter, please contact me at 717 657 7770.

Posted By
Keith E. Kendall, Esq.
Categories: