Don't Let The Holiday Express Derail Your Career.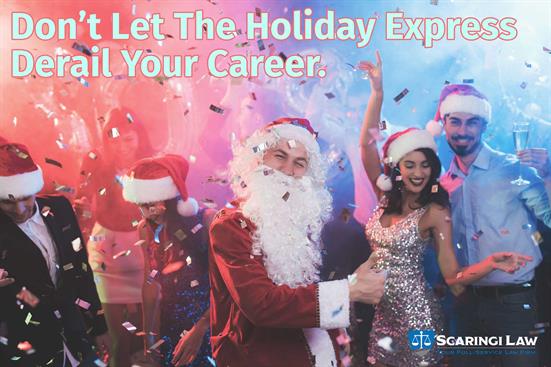 Everyone knows that the period between Thanksgiving and New Year's Day includes work holiday parties, days off of work, in some cases gifts and bonuses, and the occasional snow day. But the holidays can also cause employers and employees to make mistakes in the workplace that could have significant repercussions. The following scenarios outline some of the problems that can arise:
The Company Holiday Party
Although a company holiday party can be a great opportunity for employees and management to relax and unwind, there are also plenty of risks. First, and most obvious, are the problems that can arise when alcohol is served. Employees may become less inhibited and interact with their coworkers in a less formal, and less considered, way. This can lead to opportunities for anything from misunderstandings to outright sex harassment. This can be aggravated when the holiday party is held outside of the workplace. Employees may not realize or consider that workplace policies prohibiting harassment and certain behaviors are in effect even though everyone is out of the office at a restaurant or other venue. Employers should consider alcohol-free alternatives to the annual holiday party, such as a catered lunch in the workplace. If alcohol is going to be served at an evening party, consider issuing each employee a limited number of "drink tickets" that can be redeemed at the bar. Employers should also be prepared to assist employees find a ride home if they have had too much to drink.
Personal Holiday Decorations
Some employees like to decorate their personal areas--office door, cubicle, or desk--with holiday decorations, some of which may be religious. While most employees only bring in a few decorations, some employees may go overboard and create an elaborate holiday display. Some employees, including those of other religions, may object and employers may also feel uncomfortable with a large amount of religious decorations in the workplace. An employer can generally limit the amount of personal items and decor that employees can bring into the workplace; however, these rules must be neutral and not target only religious displays. So, an employer who permits employees to turn their cubicles into an enormous display of Star Wars figurines and posters or sports memorabilia supporting the Eagles or Steelers cannot prohibit a similar display that contains religious or holiday materials. Employers should be sure they have neutral policies in place that limit the extent of decorations employees can bring into the workplace.
Holiday Bonuses and Overtime
Remember, bonuses that are discretionary, i.e., are not promised or guaranteed, do not need to be included in an employee's regular rate when calculating overtime. Be sure your holiday bonus description states that the bonus is discretionary and that the employer can decide at any time not to pay such a bonus. Some employers have paid a holiday bonus of a set amount for so many years that employees may come to believe that it is a guaranteed bonus and must be paid. If a bonus is considered a promise or guaranteed, the employer must make a supplemental overtime payment for all overtime hours worked during the year taking the bonus amount into consideration as part of the employee's regular rate.
Cyber Monday and Shopping Online while at Work
Most employers have policies prohibiting employees from using the employer's computer network and internet connection for personal pursuits. That being said, almost every one of us has done some shopping online while at work and most employers are willing to tolerate a limited amount of online shopping provided that it is not unreasonable or inappropriate. Employers should remind employees of their policies and encourage employees to engage in online shopping or reviewing potential purchases to their break time or lunch break. Although these rules are often bent a little bit here and there, employers should not hesitate enforce these polices when an employee is spending hours shopping online rather than working.
Rules Concerning Holiday Pay
Many employer policies state that an employee must work the day before and the day after a holiday, or use an approved vacation day, in order to be paid holiday pay. No state or federal law requires an employer to offer holiday pay, so an employer is free to offer such pay on any terms it decides upon. Employees should be certain that they understand their employer's holiday pay policy so they do not forfeit holiday pay by calling out sick around holidays. Furthermore, no state or federal law requires an employer to pay a premium rate on holidays (such as double time or time and one half). Some employers may choose to do so voluntarily or are required to do so pursuant to a union contract, but generally employees are not entitled to extra pay simply because they work on a holiday.
Snow Days
Whether an employee must be paid when the office is closed due to weather depends on their FLSA exempt status. Exempt, or salaried, employees must be paid when the office is closed due to weather and the employer tells all employees to stay home. If the employer does not close the office but tells employees they may stay home if they want to, then an exempt employee who does not come to work does not need to be paid if they stay home because this is an absence for "personal reasons"; however, if an exempt employee works from home for part of the day or comes in late, the exempt employee must be paid for the entire day. Furthermore, if an employer remains open but local authorities close the roadways, an exempt employee who stays home must be paid for the entire day. Hourly employees who do not come to work because the workplace is closed or because the employer gives them the option of staying home need not be paid if they do not come to work. If an hourly employee comes to work for part of the day, they only need to be paid for the time they actually work.
After the Holidays
When January rolls around and the holidays season is over, ask Scaringi Law about free consultations for employees and employers that need legal representation because of issues surrounding leave, pay, workplace conduct, or Holiday Party mistakes, Call 717 657 7770.
Posted By
Scaringi Law
Categories: