You Receive a Charge of Discrimination From the EEOC or the Pennsylvania Human Relations Commission - Now What?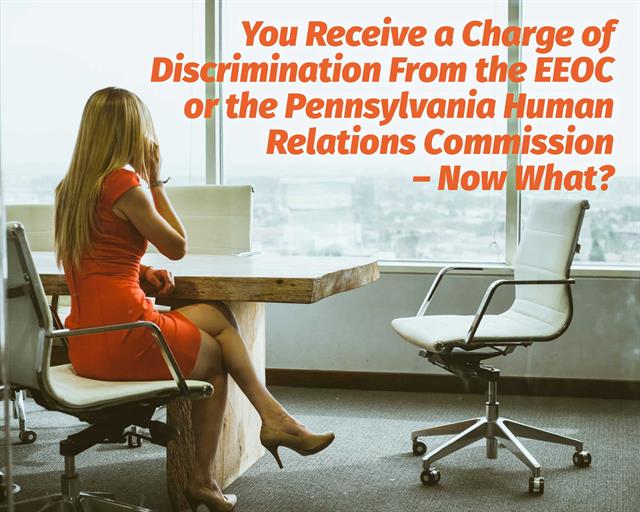 Employers are often caught off guard when they receive a copy of a Charge of Discrimination ("Charge") filed by a current or former employee with the EEOC or the Pennsylvania Human Relations Commission ("PHRC"). A Charge is the first step an employee must take before he or she can ultimately file a lawsuit in state or federal court claiming harassment, discrimination, or retaliation under Title VII of the Civil Rights Act or a similar Pennsylvania law called the Pennsylvania Human Relations Act. Why can't an employee simply file a lawsuit and not bother with a Charge? In theory, the EEOC and PHRC are supposed to investigate the claims made in the Charge and try to mediate a settlement between the employer and employee to reduce the number of lawsuits that are filed in court. Unfortunately, mediation is generally not successful, and the employee will often go on to file a lawsuit after the Charge is closed.
Charges are not required to be detailed or even clearly explain exactly why the employee believes he or she has been subjected to unlawful conduct. Each Charge will provide a date by which the employer must file a response in which the employer can tell his or her side of the story. The EEOC or PHRC may require the employer to provide a copy of its workplace conduct policy, harassment reporting procedure, or its employee handbook. An employer may also be required to provide a copy of the employee's personnel file or the personnel files of other employees who were either involved in the alleged incidents or who were allegedly treated better than the employee.
It is important to consult with your attorney as soon as you receive a Charge. There are methods by which you can obtain more time to file a response and it is also possible to obtain the agency's investigative materials after the Charge is closed and a lawsuit is filed. An attorney can also help you push back against overbroad requests for documents and requests for employee interviews or workplace inspections. There are also very strict deadlines involving filing and responding to a Charge that an attorney can help you navigate and address in your response.
Importantly, an attorney can assist in drafting your response to the Charge in such a way that your legal defenses are clearly laid out and accurately presented. If you fail to respond to the Charge or do a quick and dirty job putting together your response, the agency may rely more on the employee's version of events. Either agency can: (1) issue a finding that harassment or discrimination likely occurred, which will make the case much more attractive to plaintiffs' attorneys or (2) in rare cases, agree to represent the employee in a lawsuit, bringing the considerable resources of the state or federal government to assist the employee in pursuing his or her case.
To avoid costly mistakes that could increase your exposure, you should take the following steps immediately upon receiving a Charge:
Notify your attorney. Responding to a Charge involves many legal concepts and rules that an experienced employment attorney will thoroughly understand.
Prevent Retaliation. If the Charge was filed by a current employee, ensure that no one retaliates against that employee. Retaliation is a broad concept under Title VII—any action that could reasonably dissuade an employee from filing a Charge, even an action outside of the workplace, can be considered retaliatory. Termination, a change in schedule, a change in duties, or failure to receive a bonus or promotion can all be considered retaliation. Retaliation claims can survive even if a court finds that the employer did not discriminate against or harass the employee, so care should be taken to ensure that the employee's supervisor understands that he or she cannot retaliate in any way.
Preserve Documents. Be sure your email system does not automatically delete email that may be relevant to any issue in the Charge. Collect the employee's file and a copy of your relevant policies for your attorney's review.
Get the Whole Story. Assist in arranging interviews with your attorney and all employees who may have relevant information about the facts in the Charge. Your attorney will be able to assess the credibility of the Charge and whether it is best to try to settle the matter early, or better to continue to go through the process because the employee's claims are weak.
If you are facing this or a similar charge call Scaringi Law 717 657 7770 to ask about a free consultation.
Posted By
Scaringi Law
Categories: