What Does It Mean to Be an "Accomplice"?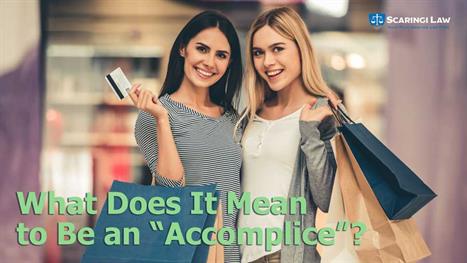 The law defines accomplice as someone who has the intent of promoting or facilitating the crime, and solicits another person to commit the crime, or aids/agrees the other person in planning or committing the crime.
This is similar to the concept of "conspiracy." In order to be convicted of conspiracy, the government must prove there was an agreement to commit a crime and any act in furtherance of the conspiracy. Accomplice liability does not require any proof of the agreement, although oftentimes scenarios will fit both accomplice and conspiracy liability.
It is important to note that one can terminate their complicity in the crime prior to its commission. Pursuant to the statute, if one "terminates his complicity" AKA quits, before the crime is committed, and either "wholly deprives it of effectiveness in the commission of the offense," or "gives timely warning to the law enforcement authorities or otherwise makes proper effort to prevent the commission of the offense.
If you are involved in a prosecution involving multiple defendants, it is likely that accomplice and conspiracy concepts will come into play. Contact Scaringi Law's experienced criminal defense attorneys, 717 657 7770, to help you navigate the legalities and reach a positive resolution in your case.
Posted By
Scaringi Law
Categories: