Saying "I Do" to a prenuptial agreement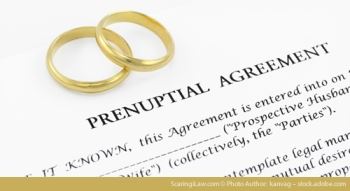 By Robert Sakovich of Scaringi Law posted in Family Law on Thursday, October 13, 2016.
Most engaged couples think that prenuptial agreements are for the wealthy and for celebrities in People magazine. But prenups aren't just for the rich and famous - they have value for the everyday couple.
Divorces can be costly, no matter the size of your bank account or the number of Twitter followers you have. A good prenuptial agreement can resolve bitter feuds over marital assets before they begin. It can resolve issues of support and alimony in a positive way while both parties still want what is best for the other and aren't simply trying to "stick it to the ex." Most importantly, it can save both parties a lot of time, money, and stress, and help them to move on in the event of a divorce.
A prenuptial agreement is not about "cutting out" your spouse. It is not a plan to divorce or an admission of a lack of love or faith in the relationship. Rather, a prenuptial agreement is a way for each of you to admit to one another that you aren't in it for financial gain only. And perhaps more importantly, it's the start of an ongoing conversation about money, finances, and ultimately values that may help make the marriage last.
Prenup Dos
Prenuptial agreements in Pennsylvania must be in writing, and they must contain a "full and fair" disclosure of each party's financial worth. Failure to provide a full disclosure can be a problem should the agreement be challenged later, to reduce the opportunities for a party to claim that a misrepresentation occurred in the drafting and execution of the agreement.
Full disclosure also helps both parties gain a full understanding of the financial realities they are entering into in the marriage. This makes the union more likely to last. A prenup must be signed by both parties before the marriage - but usually not right before. Showing up with a prenup on the day of the wedding and demanding a signature as a condition of the marriage is a good way to have the whole agreement thrown out. Both parties should have an adequate time to review and understand the agreement, and both parties should have independent counsel to review it on their behalf.
Prenup Don'ts
Like any other enforceable contract, a prenuptial agreement must not be the result of fraud, misrepresentation, or duress, such as a surprise wedding-day signing.
Aside from those conditions, the parties can agree to virtually whatever they want. These mutual agreements can result in a perfectly even distribution of assets, or a more lopsided arrangement, such as when one of the parties is bringing to the marriage substantially more assets or earning the lion's share of the income and seeks to protect such assets.
One red flag, however, is an agreement that is so one-sided that it's considered "unconscionable," such as where an elderly ex-spouse may be left with nothing. Unconscionability is a difficult term to define and may be left to the determination of a judge or jury in future litigation.
A quality agreement and a quality life
Prenuptial agreements can carry a stigma that the marriage is somehow doomed or marred by greed.
This is backward. By discussing and resolving these issues, couples are demonstrating that they aren't entering their marriage for financial gain. Both parties may be explicitly forgoing any financial gain at all, in many cases. Moreover, the exercise of drafting a good prenuptial agreement starts what should be a lifelong conversation about money and finances which will help both parties prosper.
A good prenuptial agreement is signed after having considered future assets, including things like each spouse's respective retirement accounts and any expected inheritance. The agreement might lay out how these future assets will be divided should the couple ever separate. Perhaps such assets will be shared, or perhaps not; it is up to the parties signing the agreement, and every marriage is different.
By contrast, couples who enter marriage blindly risk being taken by surprise by the Divorce Code. You may expect a certain income to support your lifestyle and then find that you are limited to the spousal support that you collect after a sudden, unexpected divorce from the spouse who earned that income. You may be the high income-earning spouse and may have saved substantial retirement assets, only to have a divorce pry away half of these assets. A prenuptial agreement can add some much-needed predictability to the scenario.
Limitations
With a well-drafted prenuptial agreement, some of the most contentious parts of the divorce process -like the division of marital assets and spousal support or alimony - can be settled or waived. Instead of the usual struggle, these issues are guided by the prenuptial agreement that was executed when cooler heads prevailed.
But prenuptial agreements have limits. No prenuptial agreement can affect custody proceedings or the amount of child support that either party might receive or have to pay. Only the two spouses are parties to the prenuptial agreement - not the couple's children.
Challenging a prenuptial agreement
Prenuptial agreements, like any contract, can be challenged in civil court. But if drafted well, many prenuptial agreements can withstand legal challenge.
Generally, the burden of proof to set aside a prenuptial agreement rests with the party alleging that the agreement is unenforceable. This party must provide clear and convincing evidence of the following:
1. The agreement wasn't entered into voluntarily by the party challenging it, such as by demonstrating fraud, misrepresentation or duress, or
2. The party challenging the prenup wasn't provided a fair and reasonable disclosure of all the assets of the other party, the party didn't otherwise know of these assets, and the party didn't voluntarily and expressly waive their right to such disclosure.
Additionally, it's important to remember that no prenuptial agreement can anticipate everything. For example, should one spouse hit the lottery and the other become disabled, all bets could be off. Drastically changed circumstances may render an otherwise enforceable agreement unconscionable.
Determine your fate with a prenuptial agreement
Prenuptial agreements provide flexibility and control by anticipating how future assets acquired during the marriage shall be handled and divided. Moreover, prenuptial agreements may be updated by mutual agreement of the parties at any time during the marriage, should circumstances change. Likewise, should a couple marry without a prenuptial agreement, it isn't too late; an antenuptial agreement functions like a prenuptial agreement, but is executed after the wedding.
Many prenuptial agreements change with the passage of time. Some even include expiration dates, or time-staggered provisions, such as setting provisions should divorce occur within the first five years of marriage, with those stipulations becoming more and more generous at the 10-, 15-year and 20-year marks.
In short, the options for a prenuptial agreement are endless. Hopefully, your marriage will be as well. Because the best prenuptial agreement is the one you never need to use.
Robert M. Sakovich focuses his practice at Scaringi Law on family law, divorce, criminal defense and civil litigation/business law. He can be reached toll free at 877-LAW-2555 or at info@scaringilaw.com
Posted By
Scaringi & Scaringi, P.C.
Categories: