How a Divorce Filing Can Save Your Relationship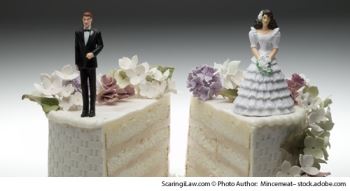 By Scaringi Law Associate Attorney Erin Zimmerer
When most people think of divorce, images of emotional upheaval, bickering and petty battles over property come to mind. But sometimes there's a far sunnier outcome.
This last-ditch cry for help can actually lead to a full reconciliation, or at least a new opportunity to act as reasonable adults.
Although it may seem counter-intuitive, filing for divorce can actually improve relationships once left for dead or on life-support.
Your family law attorney must follow their client's lead - not the other way around. Sometimes, this means putting the brakes on a divorce -- and taking a lesser legal fee in the end.
Here Are Five ways filing for divorce can help A Derailed Relationship
1. A Wake-Up Call
It only takes one partner to file for divorce. Sometimes, this act of finality is enough to issue a wake-up call to a spouse who has checked out emotionally.
Thankfully, Pennsylvania law gives separating couples time to sort through the mixed emotions prompted by a divorce filing. There's at least a 90-day waiting period from the initial filing before the divorce can become final. And that's the minimum. A divorce can take as long as two years to become official - meaning couples who want to fully reassess their relationship have time to re-commit to their marriage.
2. Calling In A Counselor
As part of filing for divorce in Pennsylvania, one or both spouses can request marriage counseling. While either spouse is free to reject counseling, a good number of spouses explore this option.
At the very least, counseling can help separating spouses sort out emotions, helping drain the bitterness and pettiness from the custody and property settlement negotiations to come.
Occasionally, divorcing couples who commit to counseling begin salvaging their marriage. Even spouses who have refused counseling in the past have been known to reconsider once a divorce filing is on the table.
3. Prospects of Parting with Martial Property
The act of filing for divorce leads to the devastating prospect of dividing up the marital assets (and liabilities) in order to turn one household into two. Often, couples don't realize the bottom-line beating they may take. Lifestyles that were once quite comfortable when supported by two breadwinners can quickly become hand-to-mouth when those combined incomes part ways.
Beyond marital assets, liabilities can be an even bigger issue in divorce. Financial burdens borne by two can be unbearable for two people living in separate households.
The glimpse of the frightening financial realities ahead can be enough to shock them into seeing how good they have it together. Some opt to recommit to making things work.
4. Custody Conundrums
Spouses with children have a whole other layer of complexity --child custody. The prospect of secure, stable children rotating among two different households is difficult for any parent to contemplate. And while no spouse should play the martyr for the sake of their kids, the idea of recommitting to marriage after glimpsing the shock of a fractured family can be a worthy, even noble, cause. More than a few married couples with kids choose to give things one more try after envisioning many a lonely night without their children.
5. How About A Date?
Spouses file for divorce for many reasons. Some feel it's the only way their partner will hear them. Others experience peer pressure from friends tired of listening to tales of marital woes. A few act on impulse or anger.
Absence does make the heart grow fonder. So does the prospect of losing someone who once loomed large in one's life. All these emotions can lead spouses to begin dating again.
In this way, the divorce filing triggers a relationship reset. It causes spouses to see themselves - and each other - as separate people. And they resume dating as if they'd just met. Sometimes, this leads to a full-blown rediscovery of why they married in the first place -- along with newfound reasons for why they should stay together.
Divorce Filing Dilemma
What should an attorney do if a client seeking a divorce has a change of heart? A practice focused on the best interests of the client and his or her family would respect their wishes - even when those wishes change and result in lower fees for the attorney.
The simplest solution is to shelve the divorce filing, allowing it to expire in time. Nothing more need be done. A divorce filing can be allowed to lapse. Eventually, the county Prothonotary's office will close it out. Should the client change his mind in the meantime, a dormant divorce filing can be reactivated easily.
Either way, what happens next should be up to the client.
Erin Zimmerer focuses her practice at Scaringi Law on family law, criminal law and federal criminal law.
Set up a case evaluation with Erin Zimmerer by calling:
(717) 775-7195

, or fill out our quick contact form.
Posted By
Scaringi Law
Categories: