Biology's Role in the Child Custody Disputes of Same-Sex Couples

Biology may be a stronger influence in custody determinations than parents in some same-sex couples would like. In its recent decision in C.G. v. J.H., 2017 Pa. Super. 320, a three-judge panel of the Superior Court affirmed a trial court's decision to deny the biological mother's former partner, C.G., standing to sue for custody of a 10-year-old child. Without standing, C.G. could not present her case for custody rights to the child she believed she had rights to parent.
In determining that C.G. did not have the standing to sue for custody, the Court noted that she cited no law establishing that a former life partner who had no biological relationship to a child and had not adopted the child could be a "parent to the child." The Court then analyzed C.G.'s argument that she stood in loco parentis to the child: a doctrine that confers standing on a person who puts him or herself in the situation of a lawful parent by assuming the obligations typical of a parental relationship without going through the formality of legal adoption. For this purpose, the Court looked to the behavior of the parties since the birth of the child, finding that C.G. had not been sufficiently involved in parenting duties to satisfy the legal definition of in loco parentis status. The behavior considered by the Court covered a broad range of parenting duties, including but not limited to whether C.G. had agreed to have the child, whether she was listed as a parent on school or medical documents or participated in decision-making in those areas, whether she had continued to provide health insurance for the child after the parties' separation, whether she contributed financially to the well-being of the child, and whether her family was closely involved with the upbringing of the child and continued involvement after C.G.'s separation from the biological mother, J.H.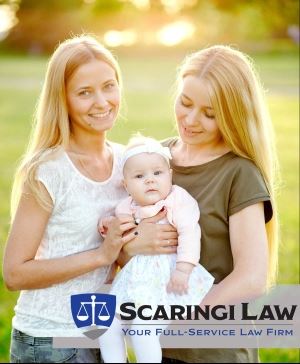 There is hope for same-sex parents who do not have a biological connection to their child, however. Because the parties, in this case, were not married when the child was born, the courts did not need to address the question of whether a married same-sex parent who does not carry the baby is a "parent" under the Custody Act and therefore has standing to sue for custody as a parent. In a case with more favorable facts and convincing legal arguments, a same-sex parent who was not married to the other parent absolutely can show that he or she stands in loco parentis to the child, as the court has held in several other cases. And a same-sex parent may, of course, adopt the child and avoid these concerns altogether – whether married or not – since an adoptive parent does have rights to custody.
Scaringi Law is well-equipped to advocate the rights of all parents. We have attorneys who regularly handle surrogacy, adoption proceedings, and who have experience dealing with complex standing issues involving all forms of standing under Pennsylvania law. If you want to assure your rights to custody of your child, there is no better time to prepare than now.

Posted By
Robert M. Sakovich, Esq.
Categories: