DIY, Doesn't Always Work For Division Of Property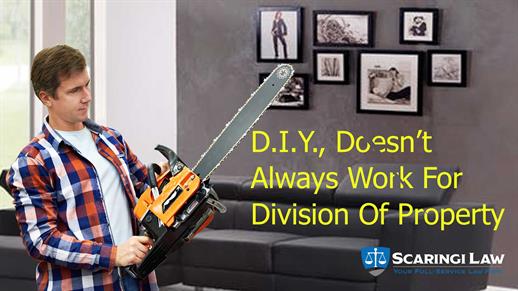 In Pennsylvania, marital property must be divided upon divorce. In some cases, parties are able to accomplish this in a less formal way, by simply each agreeing on who will get which items of property. I have found that this is extremely rare. In nearly every divorce, the parties will ultimately have disputes as to who deserves items of property. It is important to understand that marital property is not just physical items such as houses and automobiles, but also less tangible assets such as stocks, bonds, and retirement accounts, including IRAs, 401ks, and pensions.
In the event the parties cannot agree on a division of assets, a divorce master or judge will make the determination for them, with use of the following statutory factors:
(1) The length of the marriage.
(2) Any prior marriage of either party.
(3) The age, health, station, amount and sources of income, vocational skills, employability, estate, liabilities and needs of each of the parties.
(4) The contribution by one party to the education, training or increased earning power of the other party.
(5) The opportunity of each party for future acquisitions of capital assets and income.
(6) The sources of income of both parties, including, but not limited to, medical, retirement, insurance or other benefits.
(7) The contribution or dissipation of each party in the acquisition, preservation, depreciation or appreciation of the marital property, including the contribution of a party as homemaker.
(8) The value of the property set apart to each party.
(9) The standard of living of the parties established during the marriage.
(10) The economic circumstances of each party at the time the division of property is to become effective.
(10.1) The Federal, State and local tax ramifications associated with each asset to be divided, distributed or assigned, which ramifications need not be immediate and certain.
(10.2) The expense of sale, transfer or liquidation associated with a particular asset, which expense need not be immediate and certain.
(11) Whether the party will be serving as the custodian of any dependent minor children.
If you are going through a divorce, contact Scaringi Law's experienced family law attorneys to help you assert your property rights and ensure that you receive a fair share of the marital assets.
Posted By
Scaringi Law
Categories: