What Is Harassment?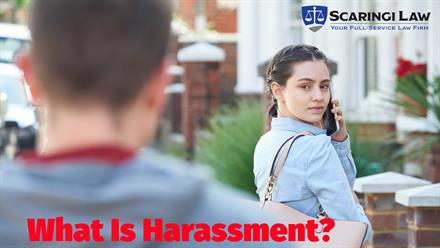 Often, I have clients confuse the term "harassment." They are not aware of the many circumstances that can lead to one being charged with harassment. The controlling law is found at 18 Pa.C.S. 2709 in the criminal code. Pursuant to the statute, "[a] person commits the crime of harassment when, with intent to harass, annoy or alarm another, the person:
(1) strikes, shoves, kicks or otherwise subjects the other person to physical contact, or attempts or threatens to do the same;
(2) follows the other person in or about a public place or places;
(3) engages in a course of conduct or repeatedly commits acts which serve no legitimate purpose;
(4) communicates to or about such other person any lewd, lascivious, threatening or obscene words, language, drawings or caricatures;
(5) communicates repeatedly in an anonymous manner;
(6) communicates repeatedly at extremely inconvenient hours; or
(7) communicates repeatedly in a manner other than specified in paragraphs (4), (5) and (6)."
As a review of the statute shows, the conduct required to be convicted for Harassment can range from repeated or vile contact to striking or kicking another person.
The statute also has an additional subsection outlawing and defining "Cyber Harassment."
If you have been charged with harassment, contact Scaringi Law, 717 657 7770, to speak with one of our experienced criminal defense attorneys.
Posted By
Scaringi Law
Categories: