Holiday Season Identity Theft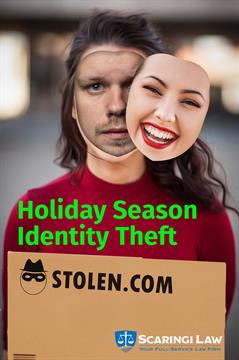 I recently spoke with a colleague who works in a local district attorney's office. He informed me that their office and local police departments have been inundated with identity theft cases of late. It seems that this type of activity ramps up around the holidays. I would urge everyone to keep a close eye on your bank accounts – even more so this time of year, and especially if you have recently used your credit or debit card at a major retailer or online shopping service.
Apparently, a number of these scams have been discovered when the victim received a package in the mail from somewhere like Amazon which they did not actually order. Luckily, these people realized they were probably not fortunate enough to receive a random gift in the mail from a stranger. What happened is that the identity scammer used the victim's identity to order the package but failed to change the shipping address, so the package still made it to the victim. There are, to be sure, more savvy criminals out there who will make sure they get the package sent where they want it, and the sooner this crime is discovered and reported to one's financial institution and the police, the sooner it can be solved.

If you have been defrauded and your financial institution is failing to acknowledge the fraud and reimburse your money, contact Scaringi Law, 717 657 7770, so we can review and assert your rights to reimbursement or eventual restitution through the criminal courts.
Posted By
Scaringi Law
Categories: