Changes to ARD May Allow Drunk Drivers to Keep Their License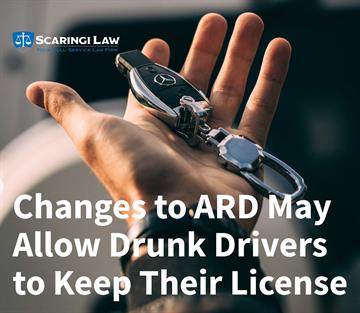 Until recently, the law in Pennsylvania was that, if you receive the Accelerated Rehabilitative Disposition Program (ARD) for a DUI charge, and your BAC was such that you are facing a driver's license suspension as part of ARD, you had to serve the full term of the suspension – no ifs, ands, or buts about it. A recent change in the law, however, has made it so that you are immediately eligible for an ignition interlock license upon entering the program.
This new law also changed how driver's licenses are surrendered in DUI cases. In the past, those convicted of DUI would surrender their license to the clerk of courts in the actual courtroom during sentencing. Now, PennDOT will send a letter, typically a few weeks after sentencing, to the convicted person requesting they surrender their license directly to PennDOT.
If you are facing a DUI prosecution, contact Scaringi Law's experienced DUI attorneys, 717 657 7770, to advise you about your potential ability to continue driving legally during a DUI sentence or term of ARD.
Posted By
Scaringi Law
Categories: