Get To Know Your Attorney BEFORE Meeting With Him/Her.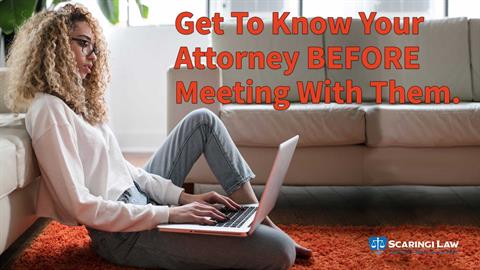 By Keith E. Kendall, Esq.
Let's say you have a legal issue - divorce, custody, or visitation e.g. - You want to find a good attorney, so you ask a trusted friend and/or co-worker if he knows a good attorney. They give you a name, and you call to arrange an appointment, to discuss your legal issue. However, unless you do some advance "homework" about the attorney and his law firm, you may ultimately be or become disappointed with his work on your behalf, after investing a lot of money in his services, because not all attorneys are effective for all legal matters. Here are a few tips to doing your "homework" about an attorney and his firm:
Check his disciplinary record, with the PA Supreme Court's Disciplinary Board, at https://www.padisciplinaryboard.org/for-the-public/find-attorney. If an attorney has been disciplined by the Board,

(a) he is not likely to disclose this to you, unless asked; and
(b) this may be a red flag that may give you justifiable pause in retaining the attorney for your legal issue.

Check his firm's web site, to find out if their attorneys even practice in your area of legal inquiry or advertise that they provide legal services to match your needs. Many firms will even use "testimonials" on their web site, to disclose the experiences some of their clients have had with the firm and its attorneys.
Ask the friend who gave you the referral some questions such as:

did the attorney keep you informed of your case status;
did the attorney welcome your input and participation; (3) was the attorney well prepared for each stage of the case?

Shop around and be selective. You are probably going to make a substantial investment in legal services, so you should make sure that you are likely to get your money's worth. Not every attorney is going to be able to effectively address and resolve your legal needs, or productively work with you to reach your goal(s). As a rule of thumb, you should only retain an attorney who you are comfortable with, and who gives you a good "vibe" about his plans for your legal matter.
If you follow these quick and easy steps to seeking legal help with a matter of such importance, you will be much less likely to be disappointed with the outcome in your case. At Scaringi Law, we are confident that our credentials and qualifications will measure up to any other firm, and so invite your scrutiny before meeting with one of our family law attorneys.

Posted By
Keith E. Kendall, Esq.
Categories: