How Do I Get a REAL-ID and Do I Need One?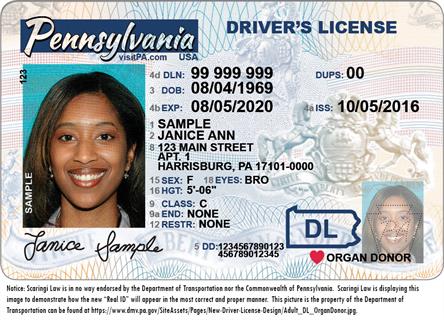 Starting in October 2020, your regular Pennsylvania license will no longer allow you to: (1) board a domestic flight; (2) enter a military base; or (3) enter certain federal buildings. In order to gain access to these services or areas, you will need to show a valid passport, a military identification card, or a Pennsylvania REAL-ID. Many people who do not fly may be tempted not to bother obtaining a Pennsylvania REAL-ID and instead keep the regular version of their PA license. Even if you do not generally fly or enter federal buildings, you would not want to be prevented from doing so in an emergency and could be put at serious inconvenience if you find yourself in need of a REAL-ID and do not have one.
Two options that will always work in place of a REAL-ID are a valid passport or a military identification, so if you always keep a valid passport you may choose to forego a REAL-ID, although passports are not as convenient to carry as a driver's license card. Furthermore, you will not need a REAL-ID to serve on federal jury duty, testify in a federal court proceeding, or enter some federal buildings, such as post-offices. The primary purpose of REAL-ID is to improve safety on commercial flights and secure federal facilities and there is no difference between a regular driver's license and a REAL-ID in terms of driving privileges or access to state buildings or facilities.
Here are the following items you will need to obtain a REAL-ID from PennDOT. Keep in mind that all these items must be originals, not copies or reproductions (even of utility bills or automobile insurance cards).
Proof of Identity: This can take the form of a valid passport or a birth certificate with a raised seal. If you do not have a certified copy of your birth certificate, you should apply for one now--some states take several months to process a request for a certified copy of a birth certificate.
Proof of Social Security Number: The easiest way to meet this requirement is to produce your original social security card--not a laminated or metal copy. If you lost your social security card, replacements are available from the Social Security Administration.
Proof of Name Changes: If you have gotten married or divorced and changed your last name, you will need official copies of marriage licenses or family court orders and decrees establishing each change in your name. Certified copies of these documents are available at county courthouses.
Two Forms of Proof of Current PA Address: Any two of the following can be used--a valid non-REAL-ID PA drivers license or identity card; Utility bills; Lease or mortgage documents; PA vehicle registration cards; or automobile insurance cards. Remember, these documents should not be copies of a bill or a registration card--you must bring the original with you to PennDOT. Also, the more mainstream the documents appear, the less likely you are to run into difficulty, so use a current electric bill or your unexpired license rather than a handwritten lease.
As of now, all Pennsylvania residents may collect the above information and go to a PennDOT service center to pre-qualify for a REAL-ID. That means that PennDOT will scan the required documents, verify them, and store them until REAL-ID cards can be issued in March 2019. Someone who has prequalified will then be mailed their REAL-ID within ten business days after they become available.
PennDOT has also ensured that registering for a REAL-ID will not result in the loss of money you already spent to renew a regular driver's license. Whenever you register for your REAL-ID and pay the fee of $30.50, your license will be valid for four years in addition to the length of time your old license was to remain valid. If your old license is scheduled to expire prior to the time REAL-IDs are available, you must renew your license now and then pay the fee for a REAL-ID, though you will not need to renew your license for almost eight years.
The items needed by most Pennsylvanians to obtain a REAL-ID are readily accessible and easy to locate. Furthermore, obtaining a REAL-ID with these documents is necessary only once--thereafter, your REAL-ID will be renewed just like a regular license. Don't be inconvenienced or find yourself in an emergency with no option to board a domestic flight--visit a PennDOT service center, allow PennDOT to validate your documents now, and simply receive your REAL-ID in the mail this spring.
Don't let traffic tickets, DUI's, or other legal problems interfere with your ability to have a valid driver's license. If you need assistance with any issue related to your driver's license or ability to drive, contact an experienced Scaringi Law attorney today at 717-657-7770.
Posted By
Scaringi Law
Categories: