Being A Foster Parent May Not Establish Familial Bonds…At Least for Custody.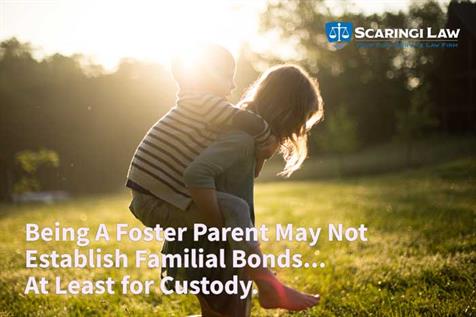 By Victor G. Myers, Esq.
Foster parents care deeply for the children under their supervision, but their rights are still overshadowed by those who may have little to no involvement with the children on a daily basis.
Sometimes knowledge is the only thing a lawyer can offer. It was a dark and stormy night when she came into my office. Okay, really it was a sunny day and it was a phone call, but she still gave me a mystery to sleuth. A foster mother had a heart's desire to adopt a group of siblings; some of whom were previously within her foster home.
The children were taken away from her foster care immediately after an allegation was made that they were being abused by another adult in the foster home. Children and Youth Services responded quickly and appropriately, investigating this accusation, but it was ultimately determined unfounded. Later, the child admitted to falsifying the accusation. However, the damage was already done and CYS still made the determination to remove the children from this foster home as a safety precaution. Fortunately for all the siblings, they were later reunited, but sadly in a different foster home than that of the woman who cared so deeply for them.
The foster mother wanted to challenge CYS's decision to remove the children and she desired to adopt all the siblings. This was what brought her to me. Regrettably, I had to inform her that the law makes clear: foster parents do not have standing to challenge a Court's determination of Custody. Even though the foster parents have physical possession and care of the children, the power of custody remains with CYS or the Foster Agency when children are placed into foster homes. By its very nature, foster parents do not develop familial bonds with their foster kids because of the very fact that the arrangement is intended to be temporary. In order for a foster parent to adopt a foster child, they are going to have an uphill battle for these reasons. Even by pleading their love for the foster children, the foster parents may not escape their legal, temporary status.
Before anyone can adopt a child, the biological parents' rights over the child must first be terminated. This is a somewhat difficult process as the State has a strong desire to preserve the unity of the biological family whenever possible. Even if the biological parents' rights are terminated, the foster parents will need the consent of Children Youth Services, the Foster Agency, and the Court before they may begin an action in adoption.
I was saddened to tell this former foster mother that there was nothing we could do legally to help her at this point in time. One of the hardest aspects of being an attorney is when you have to tell a client bad news. However, I pride myself on being an attorney that is above all else, open and honest with his clients.
Remember, a big part of the value of an attorney comes from the trust you have in that attorney to protect your interests and be honest with you, even if it means they have to tell you bad news.
If you want to adopt a child in your care, call adoption lawyers in Harrisburg at Scaringi Law, 717 657 7770 to have your options evaluated.

Posted By
Victor G. Myers, Esq.
Categories: