Do I Have to Give Back my Wedding Rings After Divorce?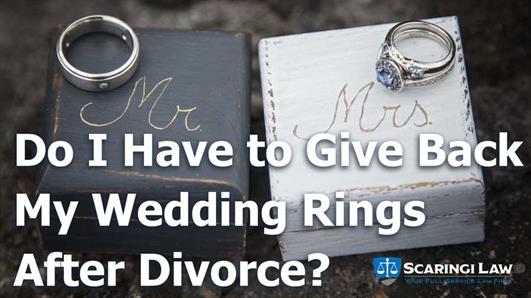 By Tony E. Miley, Esq.
The answer is maybe "yes" or maybe "no". First, let's distinguish between "engagement ring" and "wedding ring". In a typical marriage, a wedding is almost always preceded by a proposal, which is also accompanied by an "engagement ring". After marriage, the engagement ring is accompanied by a wedding ring. However, in Pennsylvania, these two items are treated differently depending upon whether the marriage occurred.
Engagement Ring
In Pennsylvania, an engagement ring is treated differently than a wedding ring. An engagement ring becomes the sole property of the recipient upon marriage, absent some premarital agreement to the contrary. An engagement ring is considered a conditional gift given by, one to another, on the promise that the two people will marry. Once that condition is satisfied through marriage, title to the engagement ring transfers to the recipient and is, therefore, not subject to division of property in a divorce. But what if the engagement is broken, and no marriage occurs, who gets the ring?
Prior to 1999, the answer depended upon who was responsible for breaking the engagement. If the recipient of the engagement ring ended the engagement, he or she would have to return the ring to the donor. And if the donor ended the engagement, the recipient could keep the ring. In Lindh v. Surman, 560 Pa. 1 (1999), the Pennsylvania Supreme Court changed the law. The law now in Pennsylvania is that it doesn't matter who is responsible for the break-up, the engagement ring will always be returned to the donor, absent some agreement to the contrary. However, this rule only applies if the engagement is terminated. If the engagement proceeds to marriage, the engagement ring will always belong to the recipient, unless there is a prenuptial agreement to the contrary. This agreement would likely be the case in which a family heirloom (engagement ring) was given, and the donor wanted it returned to keep it in the family.
Wedding Rings
In Pennsylvania the question of "who gets the wedding rings upon divorce" is much easier. Absent some agreement to the contrary, the wedding rings will become part of the marital estate and will be divided as part of the equitable distribution process.
Conclusion
If you don't like the harshness of these rules of law as applied to wedding and engagement rings, you and your intended spouse can enter an agreement that overrides the law. That's called a prenuptial agreement.
Marriage affects the rest of your life, even if the marriage ends. If you're considering marriage, feel free to call 717 657 7770 to schedule a consultation about prenuptial agreements, estate planning and matrimonial law.
Posted By
Anthony E. Miley, Esq.
Categories: