PA Department of Labor & Industry Temporarily Suspends Restrictions on Access to Unemployment Compensation Benefits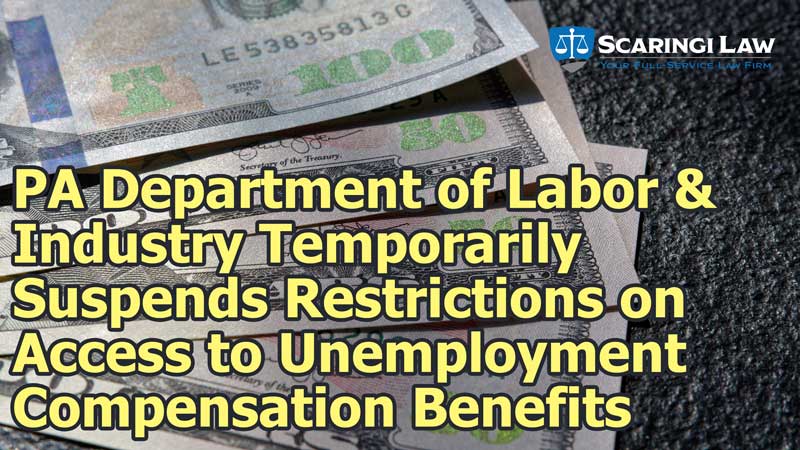 Under ordinary, work-a-day circumstances, restrictions on access or prompt access to unemployment compensation ("UC") benefits are built into the law, but today's "work-a-day" world has become anything but ordinary, in the wake of the corona-virus (COVID-19) threat. Businesses have been asked to shut their doors, and employees despair about not receiving their regular paycheck on payday.
Fortunately, the PA Department of Labor & Industry ("L&I") has taken steps to put some wage replacement benefits into the bank accounts of thousands of Pennsylvanians impacted by the COVID-19 pandemic. To keep up with the following measures, as well as others designed to help effectively "out of work" employees, you can use this link: https://www.uc.pa.gov/COVID-19/Pages/UC-COVID19-FAQs.aspx.
Two of the most helpful restrictions blocking prompt or needed access have been a one-week waiting period following the first day of unemployment; and a requirement that entitlement to UC must be accompanied by an active search and registration for new employment. However, effective March 16, 2020:
Work Search and Work Registration requirements have been temporarily suspended for all UC claimants.
The Waiting Week requirement has also been temporarily suspended. This means that new claimants who are approved for UC benefits will receive payment for their first week of unemployment.
Stay tuned to our website for regular updates in the fluid working world, in the wake of efforts to slow down and eventually stop the spread of this life-threatening disease.
If you have any questions about UC benefits, or if your claim is denied, do not hesitate to contact the Employment Law attorneys at Scaringi Law at 717-657-7770 or Scaringilaw.com. We are ready, willing and able to help you receive the UC benefits you deserve.

Posted By
Keith E. Kendall, Esq.
Categories: