Firearms Dealers
Harrisburg Firearms Attorneys
In Pennsylvania, firearms dealers are held to specific standards when it comes to the sale and licensing of guns. All firearms dealers must obtain the appropriate licensing from the Bureau of Alcohol, Tobacco, Firearms & Explosives (ATF), or face serious fines and penalties. If you are a firearms dealer in Pennsylvania, it is important that you obtain the appropriate licensing, follow all necessary regulations, and take action to preserve your license and your business.
At Scaringi Law, we can help you with your licensing needs and other concerns regarding owning and operating a firearms business. We are dedicated to providing our clients with comprehensive, skilled legal representation in Pennsylvania. Our record of success precedes us, and we are proud to offer our clients creative and wide-ranging solutions for their every business concerns, especially as it applies to firearms dealers.
Call (717) 775-7195 to discuss your legal needs with our lawyers.
Licenses for Firearms Dealers in Pennsylvania
Our practiced attorneys have a thorough understanding of our state's firearms laws as they apply to dealers, and we can help ensure your business follows all regulations and procures the proper licenses. We can help you apply for appropriate licensing through the Bureau of ATF, and we can guide you through the process of starting a firearms business. All firearms dealers must procure the appropriate licenses and must follow certain procedures when selling firearms on their premises. To ensure your business follows all necessary steps, let us help you.
We can help you with the following firearms concerns: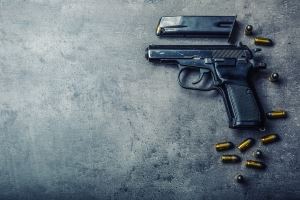 Becoming a Federal Firearm Licensee (FFL)
License to sell Class III NFA Weapons, or Title II Firearms
License as a Curio & Relics Collector
License to sell machine guns, rifles, and assault weapons
Procuring other relevant licenses
Restoration of rights
Compliance With All Firearms Dealer Laws
Firearms dealers must follow several regulations in order to keep their license and avoid fines and other legal consequences. Our firm can work with you to assess your current business standards and help your company comply with all federal and state requirements.
All licensed gun dealers must:
Display the license on premises
Only sell firearms to customers with identification
Retain records of all firearm sales for the past 20 years
Display firearms so as to be seen from outside the premises
Secure firearms and ammunition after business hours
Provide all firearms purchasers with a free firearms safety brochure
If you are currently a firearms dealer in Pennsylvania, or you wish to become licensed, our firm can help you. We can work with you to procure the necessary licenses in order to begin firearms sales legally and successfully. Failure to follow these federal and state rules could result in serious consequences, including loss of license and other legal repercussions. To ensure the safety and success of your firearms business, let our firm advise you.
Contact Scaringi Law today to get started on your case.