5 rules to keep the LCB happy when advertising your happy hour
Not too long ago, bars, clubs and restaurants were banned from showing any alcohol products or prices in their advertising.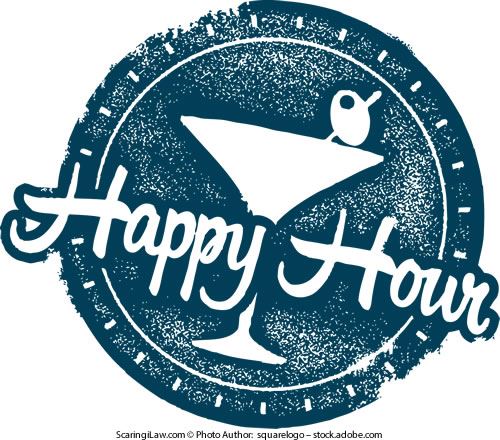 But the Liquor Control Board (PLCB) has become increasingly permissive in an age of happy hour specials and bountiful craft beer options. Thankfully, those businesses are now free to advertise their selections as long as this advertising meets four important conditions.
The state's one-time booze ban on ads
Before 1997, advertising beer and other alcohol products and their prices was banned in any promotion by retail licensees. The ads couldn't even picture a glass of beer, happy hour specials, or the varied tap handles in your bar.
That all changed in 1997, as Pennsylvania opened up alcohol advertising in a limited way. These days, bars and restaurants can boast about their array of craft beer offerings.
So as the summer season for bars and restaurants heats up and competition grows ever keener, here's a quick review of the PLCB's current rules regarding alcohol advertising.
Responsible alcohol advertising in Pa.
Pennsylvania has four overriding rules and conditions for responsible alcohol advertising:
1. Licensee must be clearly identified
Every piece of alcohol advertising by Pennsylvania licensees must clearly identify the licensee doing the promotion. Either the name of the licensee or the trade name of the licensed establishment must be in the ad, be it a billboard, a digital ad or a TV or radio promotion.
2. Alcohol advertising cannot be obscene
As one famous judge once said, "I know it when I see it." Showing bikini-clad women in beer ads has been a staple of alcohol promotion, but although sex sells, Pennsylvania isn't the place to break boundaries.
3. Safety first
The advertising of alcohol must not undermine messages of safety and safe driving. Advertising alcohol specials and happy hours could be viewed as encouraging excessive drinking, which some could interpret as unsafe. Yet this kind of promotion has been deemed acceptable in Pennsylvania, as long as it stops short of promoting intoxication. Drawing in customers to drink by touting specials is one thing. But any advertising that promotes drinking with abandon or without care to responsibility and safety is trouble.
4. No alcohol advertising can be directed at minors
There can be no "Joe Camel" for alcohol-serving bars and restaurants in Pennsylvania. Alcohol advertising cannot be seen as targeting those who are under 21. So promoting something like a "spring break" beer party might be seen as crossing the line. And so could any subliminal messaging using cartoon characters, such as those that Big Tobacco employed for decades. To be safe, make sure all alcohol advertising is unmistakably aimed at adults.
5. Forget snail mail and phone calls
Pennsylvania still bans retail licensees from using the U.S. Mail or the telephone to conduct any form of alcohol advertising. It's forbidden in the Keystone State to send mailings or make marketing phone calls that contain any reference to alcoholic products or prices.
Uncharted territory
As the liquor law and regulatory changes continue to flow ever more freely in Pennsylvania, retail licensees enter uncharted territory. It is important to understand the historical context of our state's exceedingly restrictive, Prohibition-era past. But as past restrictions are slowly but surely overturned, the happy medium between those old-style regulations and modernity is still fluid.
With an attorney, liquor licensees can stay abreast of Pennsylvania's latest liquor law trends -- from the State Legislature and the PLCB to the latest rulings in Commonwealth Court, allowing them to steer clear of trouble that can cost them their livelihoods - and their liquor licenses.
The time to start protecting your Pennsylvania liquor license is the very moment you receive one.
Posted By
Frank C. Sluzis, Esq.
Categories: