Annulments: Make Marriages Like They Never Happened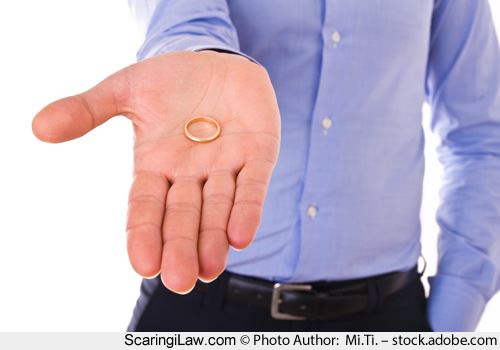 By Scaringi Law Associate Attorney Robert M. Sakovich
Divorce is the most common way to dissolve a marriage in Pennsylvania. But there is another, more rarely used, method of ending a marriage that is sometimes preferable to divorce: annulment.
An annulment voids a marriage, acknowledging that it never legally existed. But it can be used only under limited circumstances, and is preferable to divorce only in the right circumstances.
Void marriages
In Pennsylvania, marriages may be void where:
(1) Either party had an existing marriage at the time of the parties' marriage;
(2) The parties to the marriage are too closely related under Pennsylvania law;
(3) A party to the marriage was incapable of consenting by reason of insanity or serious mental disorder; or
(4) Either party to a common-law marriage (now abolished in Pennsylvania) was under 18 years old.
If any of these conditions are discovered, an attorney can bring an action in annulment and the court may enter a declaratory judgment stating that the marriage never existed.
Voidable marriages
An action for annulment can also arise where certain voidable conditions exist. Grounds for voidable marriages include:
(1) Where either party to the marriage was under 16 years of age unless the marriage was expressly authorized by the court;
(2) Where either party was 16 or 17 years of age and lacked the consent of parent or guardian or express authorization of the court and has not subsequently ratified the marriage upon reaching 18 years of age and an action for annulment is commenced within 60 days after the marriage ceremony;
(3) Where either party to the marriage was under the influence of alcohol or drugs and an action for annulment is commenced within 60 days after the marriage ceremony;
(4) Where either party to the marriage was at the time of the marriage and still is naturally and incurably impotent unless the condition was known to the other party prior to the marriage;
(5) Where one party was induced to enter into the marriage due to fraud, duress, coercion or force attributable to the other party and there has been no subsequent voluntary cohabitation after knowledge of the fraud or release from the effects of fraud, duress, coercion or force;
With the passage of time, a marriage can be made valid by the parties in spite of any of these conditions. In contrast to a void marriage, a voidable marriage validly exists until the court declares otherwise.
Know your rights!
In any case, it is important to know your rights when seeking an annulment. Whether using void or voidable grounds, it is crucial that the parties do not ratify the marriage where it is possible to do so. For example, if you are a party to a bigamous marriage, you may lose your right to an annulment if your spouse obtains a divorce from his or her prior spouse and you continue to live together as husband and wife afterward. Divorce, a potentially more costly and time-consuming option, would then be the only way to dissolve your marriage.
Who should get an annulment?
Annulment is not for everyone. It is very fact dependent whether an annulment will suite a party better than a divorce.
Some people prefer annulment for religious or other personal reasons. But for many, the key distinction between divorce and annulment lies in finance. With a divorce comes various economic claims, including equitable distribution of assets and liabilities, spousal support, alimony pendent lite, and alimony. With annulment, because the marriage did not exist at the outset, such economic claims are lost. You cannot collect alimony from a party to whom you were never married!
Because of the possible loss of economic claims, for better or for worse, it is crucial to figure out quickly and with the assistance of legal counsel whether your marriage would best be dissolved by way of divorce or annulment.
If you feel an annulment might be the right path for you, contact a Scaringi Law attorney now at 717-775-7195, or use our quick Contact Form.
Posted By
Robert M. Sakovich, Esq.
Categories: