Burglary Vs Robbery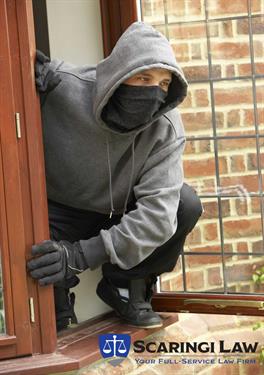 I have noticed that oftentimes people confuse the terms "robbery" and "burglary." While these two types of crimes do have similarities, they are ultimately very different offenses. There are numerous factual scenarios that can lead to being charged with either of these offenses, but some general principles apply.
Robbery is essentially theft coupled with violence or the threat of violence. There are a wide range of ways this charge can be made out, including something like a purse snatching all the way up to walking into a bank with a gun and demanding money.
Burglary is breaking and entering into a structure one is not licensed to be in with the intent to commit a crime therein. It is a misconception that burglary requires that a theft occur. Theft would certainly qualify as a crime that could be part of a burglary charge, but it is not the only crime that qualifies. Burglary can be as simple as breaking into an abandoned warehouse with the intent to commit criminal mischief by spray painting graffiti on the walls. This action is still, of course, a criminal act. It is not, however, nearly as serious as breaking into a family's home at night and stealing something of significant value. Both scenarios are burglary, but will be handled far differently in terms of the ultimate outcome of the charges and potential length of sentence.
Each of these two offenses are felonies and carry serious criminal consequences. If you are charged with either, it is imperative that you call 717 657 7770 to discuss your rights with an experienced criminal defense attorney.
Posted By
Scaringi Law
Categories: