Breaking Up Is Hard To Do for Unmarried Couples in Pennsylvania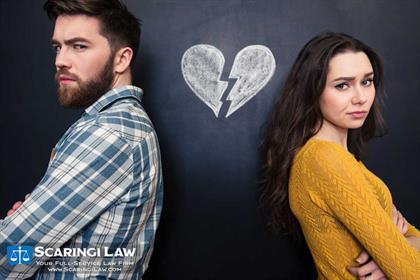 Pennsylvania law defines marriage as "a civil contract by which one man and one woman take each other for husband and wife" 23 Pa.C.S.A. § 1102. There is a growing trend of people who share a household together, yet do not to meet the definition recognized by Pennsylvania as a "married couple." This growing segment includes those who decide to live together without getting married (commonly referred to as "domestic partnerships") or individuals of the same-sex who decide to co-habitate in either a partnership or marriage performed in another state.
The real problems arise when the parties want to dissolve their union, and divide the assets and debts that they share with each other. Divorce law deals with the division of assets and debts shared by married parties through the process of equitable distribution. However, divorce law does not provide any assistance to parties involved in a domestic partnership because they do not fit the definition of "married" as recognized by the state of Pennsylvania. Furthermore, common law marriage was abolished in Pennsylvania in 2003 and no common law marriages contracted after January of 2005 are recognized by the state either.
At this point in time, Pennsylvania will not issue a marriage license to same-sex couples.
Pennsylvania law also states that a marriage between same-sex couples is void in the Commonwealth of Pennsylvania even if the marriage was entered into validly in another state or foreign jurisdiction which issues marriage licenses to same-sex couples. (See, 23 Pa.C.S.A. § 1704.) Therefore, a same-sex couple that obtains a marriage in Connecticut, Iowa, Massachusetts, New Hampshire, New York, Vermont, or Canada, but live in Pennsylvania will not be able to obtain a divorce through the state legal system.
What makes the issue even more complicated is that some jurisdictions, such as Massachusetts and Canada, which allow same-sex marriages, will not allow the couple to file for a divorce unless they are residents of that jurisdiction for a specific time period, even if the couple's marriage was performed in that jurisdiction. Therefore, if a Pennsylvania same-sex couples, who goes to Canada to get married and returns to Pennsylvania to live, will not be able to obtain a divorce in Pennsylvania or in Canada unless one of them moves to Canada for a year to meet the residency requirements. This presents a unique situation for individuals with lives, jobs, and family obligations, as the move, just to meet the residency requirements, could be a hardship.
It is recommended that individuals who are parties to a domestic partnership or same-sex union enter into a cohabitation agreement. These agreements are enforceable as long as it is not based upon a meretricious relationship and can be handled by the Pennsylvania courts under contract law theories.
For more information regarding the protection of assets for parties involved in a domestic partnership or same-sex partnership or union, contact Scaringi Law at (717) 775-7195, or complete our quick and easy contact form.
Posted By
Scaringi Law
Categories: