Thinking of Giving a firearm this Christmas? Be careful.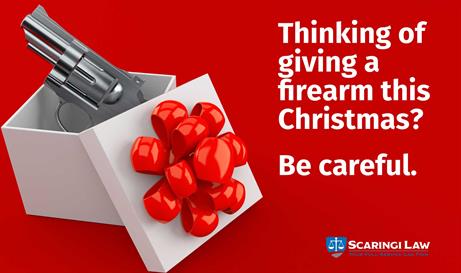 By Brian C. Caffrey, Esq.
In a state like Pennsylvania, firearms are very important and very popular. It's natural that people will want to make gifts of firearms to friends and loved ones who are gun enthusiasts, especially at holiday time. However, few, if any transactions in American commerce are as heavily regulated as transactions in firearms. There are traps for the unwary; make sure you don't get caught in one of them.
When you go into Bass Pro Shop or Cabela's or a gun shop to buy a firearm, you'll have to fill out the all-important Bureau of Alcohol, Tobacco, Firearms and Explosives (ATF) Form 4473, "Firearms Transaction Record." One of the most important questions on this form is Question 11(a): "Are you the actual transferee/buyer of the firearm listed on this form?" This means the person who will end up owning and possessing the firearm, not the person who buys the firearm as a gift for someone else.
The importance of correctly answering Question 11(a) was illustrated in the 2014 U.S. Supreme Court decision in Abramski v. United States. In that case, Abramski, a former police officer, thinking he could get a discount, offered to buy his uncle a Glock 19 handgun. The uncle gave Abramski a check in the amount of $400 for the purchase of the Glock. When Abramski filled out the Form 4473, he answered Question 11(a) by stating yes, that he was the "actual transferee/ buyer." A grand jury indicted Abramski for violating the federal gun control act "by falsely affirming in his response to Question [11(a)] that he was the Glock's actual buyer." The trial court rejected Abramski's argument that there was no violation because his uncle was legally eligible to own a firearm, after which Abramski entered a guilty plea conditioned on his right to challenge the court's rulings. The Court of Appeals affirmed the trial court's decision.
The Supreme Court's five-justice majority, led by Justice Kagan, was entirely unsympathetic to Abramski, pointing out that the law behind Question 11(a) is designed to keep guns out of the wrong hands by preventing "straw" purchases, and that Abramski was a straw purchaser. It didn't matter, as Justice Scalia pointed out for the four dissenting justices, that both Abramski and his uncle were legally permitted to purchase and possess firearms. The result for Abramski was a felony conviction and a lifetime ban on possessing any firearm, a result that was entirely avoidable.
If you want to buy a firearm for someone, the safest way is to give the money or a gift card to the recipient and let him or her buy the gun. That way, the background of the ultimate possessor and user of the firearm will be scrutinized, and the giver of the gift will not be viewed as having skirted the law, which is intended to keep firearms out of the hands of dangerous persons. When it comes to firearms law, it is better to be safe than sorry.
If you have questions about navigating firearms law, call our office to ask about a free consultation.

Posted By
Brian C. Caffrey, Esq.
Categories: