DUI Check Points – Are They Constitutional?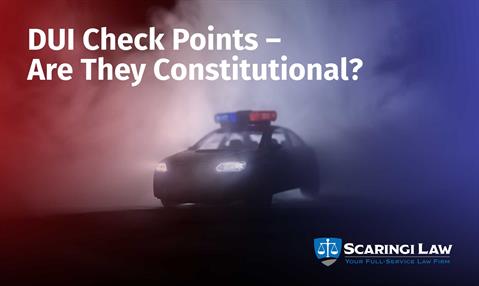 With Holiday Parties and New Year's Eve approaching, it is highly likely that the Pennsylvania State Police as well as other local police departments are going to start protecting the public from intoxicated drivers by having DUI checkpoints setup throughout Pennsylvania.
I have had many people ask me about the constitutionality of DUI roadblock checkpoints. "How are they allowed to stop every single person? Don't they need probable cause?" The short answer, at least in Pennsylvania, is "no." DUI checkpoints do certainly seem to run counter to the constitutional protections afforded to citizens by the Fourth Amendment to the United States Constitution and Article I, Section 8 of the Pennsylvania Constitution. The Pennsylvania Supreme Court, however, held in Commonwealth v. Tarbert and Commonwealth v. Blouse, that while DUI roadblocks do intrude on individual constitutional rights, the intrusion is permissible because it is outweighed by the state's interest in protecting people by enforcing DUI laws to this degree. These two cases also established the guidelines under which checkpoints must operate, which are as follows:
vehicle stops must be brief and must not entail a physical search;
there must be sufficient warning of the existence of the checkpoint;
the decision to conduct a checkpoint, as well as the decisions as to time and place for the checkpoint, must be subject to prior administrative approval;
the choice of time and place for the checkpoint must be based on local experience as to where and when intoxicated drivers are likely to be traveling; and
the decision as to which vehicles to stop at the checkpoint must be established by administratively pre-fixed, objective standards, and must not be left to the unfettered discretion of the officers at the scene.
Law enforcement failure to follow these guidelines can serve as the basis upon which to fight a DUI charge. If you have been charged with a DUI as a result of driving into a DUI roadblock checkpoint, contact Scaringi Law 717 657 7770. We will review the specifics of the checkpoint and determine if we can fight your charge on this basis.
Posted By
Scaringi Law
Categories: