You May Be Skiing At Your Own Risk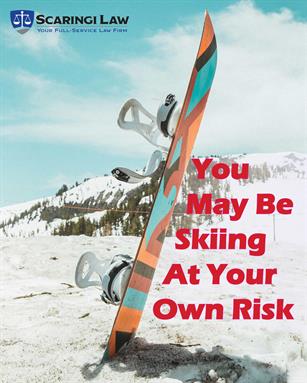 Skiing is a popular past time in Pennsylvania and its twenty ski resorts, including Ski Roundtop, Ski Liberty, Blue Knob, Tussey Mountain, and Eagle Rock do a thriving business each year when the weather cooperates. Although advances in safety gear for skiers and ski trail safety measures have improved over the years, skiing remains a dangerous activity because of the unpredictable conditions, the unregulated interaction between skiers, and hazards on ski slopes that cannot be removed or eliminated by ski resort operators, such as trees, rocks, sudden drops, speed, and ski infrastructure.
Unfortunately, every year skiers are injured in accidents because of the acts of other skiers, sudden changes in snow conditions, or unintentionally skiing off of marked trails. The Pennsylvania General Assembly passed the Skier's Responsibility Act several decades ago which prevents skiers injured by hazards inherent to downhill skiing from recovering for their injuries from ski slope operators. The law recognizes that there are inherent dangers involved in downhill skiing and snowboarding that a ski resort operator cannot reasonably remove from the slopes; therefore, if a skier wants to ski, they must assume those risks at their own peril. Otherwise, ski resort operators would be sued for every injury that occurs on their property, even for those injuries that they cannot reasonably prevent, and be driven out of business resulting in the loss of recreational areas for the public and the local income they generate.
What exactly is a hazard "inherent" to skiing and snowboarding that skiers must assume when they decide to visit a ski resort? Pennsylvania courts, and courts in other states with similar laws and ski resorts, have developed a list of things that a skier could encounter and, in fact, should expect to encounter that cannot be the basis for a lawsuit against a ski resort operator, including:
Falling from a ski lift
Collisions between skiers/snowboarders and other skiers/snowboarders, which one court said are "common, frequent, and expected"
Lack of netting between the ski slope and hazards
Improper course plotting
Soft snow
Ice on the snow surface
Skiing off trail and striking a tree
Collisions with unpadded snow equipment poles
Skiing into a fence on the edge of a trail
Skiing off trail and falling from an elevation onto a pile of rocks
A recent decision from a Pennsylvania Federal District Court considered the case of a downhill skier who was skiing along the edge of a ski trail at a local ski resort. A snowboarder came extremely close to the plaintiff-skier and caused him to have a "knee-jerk" reaction and try to ski away from the snowboarder to avoid a collision; unfortunately, he then left the trail, fell approximately four feet onto a pile of rocks, and suffered catastrophic injuries. He sued the ski resort claiming that it had failed to warn him about the hazardous conditions just off the trail on which he was skiing. The court held that the ski resort had no duty to warn him about the dangers of skiing off trail and that collisions between skiers and going off trail were hazards that are assumed by anyone engaging in the sport of skiing. The court also noted that the plaintiff's lift pass had a disclaimer printed on it that stated that the purchaser of the pass "agrees to accept the risks of snowsports and understands and agrees that they are hazardous..." Almost every ski resort prints a similar disclaimer on the ski lift tickets purchased by patrons.
Skiers should be aware that snow resort facilities cannot be held liable for injuries suffered while skiing unless the hazardous conditions that caused the injury are completely unrelated to those that can be expected while downhill skiing or snowboarding on a rocky, tree-covered mountain that likely has quickly changing snow conditions, sudden drops, and poles, fences, and equipment associated with skiing facilities.
Winter has inherent dangers that are not just found on a ski slope, ice can be hiding on sidewalks, parking lots, or melting in doorways. If reasonable measures are not taken to remove it a person or business may be found negligent. If you need advice from a Scaringi Law attorney about a skiing accident or a winter related injury call 717 657 7770.
Posted By
Scaringi Law
Categories: