Property Owners — Shovel Your Sidewalks
Property Owners — Shovel Your Sidewalks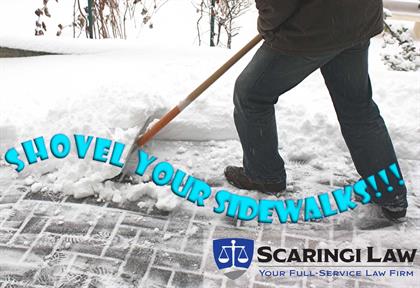 As an ice skater, hockey player and former skier, I can assure you that snow and ice are slippery. That quality is what makes skating and skiing enjoyable. However, the quality of slipperiness is not desirable in a sidewalk, and this is of particular importance at this time of year.
In Pennsylvania, property owners have a duty to act within a reasonable time after notice (actual or constructive) to remove snow and ice when it creates a dangerous condition. This is in area of the law in which there has been much litigation over many years. In most instances, as to most properties, it is not a great project to remove snow and ice from one's sidewalk within a reasonable time after a snowfall or ice storm. If you have a business, it's a cost of doing business. In most cases, you're talking about some ice melt and a few minutes of time.
Sure, you have insurance; but anybody can sue anybody for anything at any time. If someone has slipped on a snowy or icy walk, you've given that person a pretty good reason to sue you; and no matter how it turns out, you'll pay a price in terms of inconvenience, lost income and stress. An ounce of prevention is worth a lot of (expensive) cure.
If you have questions concerning your responsibilities as a property owner, of have been sued, call our office to schedule a consultation.

Posted By
Brian C. Caffrey, Esq.
Categories: