Two Men Accused of Running a Multi-Million Dollar PAC-Scam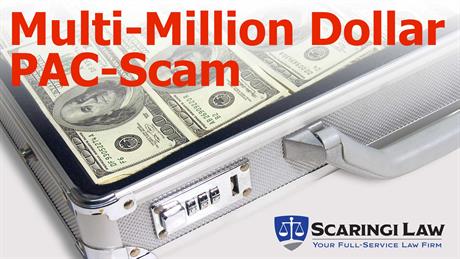 By: Marc A. Scaringi, Esq.
On May 14th, 2018, the United States Attorney for the Southern District of New York filed multi-count indictments against two Arizona men for allegedly operating scam Political Action Committees (PACs) to enrich themselves.
According to the indictment, the two men operated nine non-connected PACs which they promoted as supporting causes such as autism awareness, law enforcement awareness and the right to life among others. These PACs raised millions in donations. However, less than 1% of the donations were spent by the PACs on political contributions to candidates. Instead, the two men transferred an overwhelming majority of the donations through shell companies under their control to make it appear as if the donations were being used for marketing, consulting and communications activities. These shell entities had no active operations or employees. It appears these men personally pocketed over $3 million of these donations. The men solicited contributions of less than $200 to get below the Federal Election Commission (FEC) threshold for itemized disclosure requirements. According to news reports, the U.S. Attorney only charged the two men for crimes allegedly committed in a three-year time span, but that over the past decade the men's scam PACs raised more than $50 million.
According to the allegations set forth in this indictment these two men were operating a criminal operation. If the allegations are proven true, these men should receive the justice they deserve. It's important that political donors have confidence that their donations to PACs will be properly utilized to promote the PACs touted causes.
In any event, operating a PAC is a difficult job involving navigating very complex federal and state rules and regulations. If you have any questions about campaign finance or election law contact Scaringi Law at 717-657-7770.

Posted By
Marc A. Scaringi, Esq.
Categories: