Can You Possess A Firearm In A School Zone?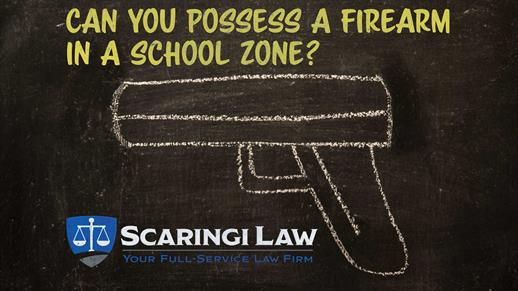 By Brian C. Caffrey
Congress passed the Gun-Free School Zones Act, which was subsequently signed into law by President, George H. W. Bush, in 1990. The Act starts out with a general prohibition against knowingly possessing a firearm in a school zone. However, like most federal statutes, exceptions follow. Most importantly for law-abiding gun owners, the general prohibition does not apply to the possession of a firearm "if the individual possessing the firearm is licensed to do so by the State in which the school zone is located or a political subdivision of the State, and the law of the State or political subdivision requires that, before an individual obtains such a license, the law enforcement authorities of the State or political subdivision verify that the individual is qualified under law to receive the license." Note that this exception applies only to licensing "by the State [or subdivision, such as the county] in which the school zone is located."
There is also an exception for a firearm that is not loaded and in a locked container or a locked firearms rack that is on a motor vehicle.
However, there is another major exception to this Act which cuts the other way: nothing in the act "shall be construed as preempting or preventing a State or local government from enacting a statute establishing gun free school zones as provided in this subsection." And Pennsylvania has done just that. Under Pennsylvania law, it is a misdemeanor of the first degree to "[possess] a weapon in the buildings of, on the grounds of, or in any conveyance providing transportation to or from any elementary or secondary publicly-funded educational institution, any elementary or secondary private school licensed by the Department of Education or any elementary or secondary parochial school." Thus, while the federal government provides an exception to the general prohibition for licensed gun owners, state law prohibits the possession of any weapon, which includes a firearm, "on the grounds of" any elementary or secondary school. This state prohibition has no exceptions, but it does include an affirmative defense. Subsection (c) provides a defense to the criminal charge if the weapon is possessed "in conjunction with a lawful supervised school activity or course or is possessed for other lawful purpose(s)."
Does carrying a firearm with a concealed carry license on school grounds fit the definition of "other lawful purpose?"
The jury is still out, so to speak. The appellate courts have not ruled on this precise fact pattern. However, the Pennsylvania Superior Court has recently held in Commonwealth v. Goslin, 156 A.3d 314 that a student's father, who is a carpenter and carried a pocket knife on school grounds and testified he used the pocketknife in his carpentry business and to open cans of tuna for lunch, cannot be guilty of this crime because those facts constitute "other lawful purpose." See Commonwealth v. Goslin, 156 A.3d (February 16, 2017). But, that ruling came after the father was charged, prosecuted, found guilty of the crime, and lost at the first stage of his appeal. The Superior Court added in dicta that it ruled for the father because of the broad language of "other lawful purpose" defense but stated it is concerned about individuals carrying weapons on school property and urged the General Assembly to review the statute (purportedly to limit the defense).
Although it appears the holding in Commonwealth v. Goslin would also permit the carrying of a firearm on school property by an individual who has a valid concealed carry permit, our position at Scaringi Law is that it is too risky at this time to do so. So, we advise our concealed carry licensees not to carry or otherwise possess their firearms on school grounds. Our advice is the same for open carry. It is too risky to open carry on school grounds.
We are waiting for a decision from the PA Superior or PA Supreme Court directly on point or for a clarifying amendment to 18 Pa C.S. §912 by the Pennsylvania General Assembly So our advice is that if you have to pick up your child or grandchild at school, just leave your gun at home.
---
If you would like to discuss this matter further, or have questions concerning your right to bear arms, contact our office to speak with one of our firearms attorneys.

Posted By
Brian C. Caffrey, Esq.
Categories: