How Child Support Is Calculated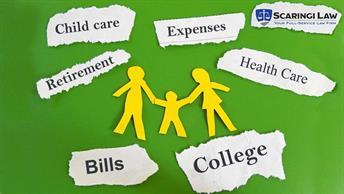 Calculations of child support are based almost entirely on the parents' respective incomes and amounts of physical custody each parent enjoys with the child(ren). There is a detailed guideline formula that is followed in making the calculation. There are, however, some exceptions to this general rule. For example, the party that provides health insurance for the child(ren) may be granted a credit to help with the cost of providing this coverage. The Domestic Relations Office support master or a judge could also decide to grant a deviation from the guideline calculation to effect economic justice. There are specific factors which are to be considered in determining whether to grant a deviation.
These are:
unusual needs and unusual fixed obligations;
other support obligations of the parties;
other income in the household;
ages of the children;
the relative assets and liabilities of the parties;
medical expenses not covered by insurance;
standard of living of the parties and their children;
in a spousal support or alimony pendente lite case, the duration of the marriage from the date of marriage to the date of final separation; and
other relevant and appropriate factors, including the best interests of the child or children.
An example of a situation in which a deviation may be granted is where one of the parents becomes involved in a new relationship with a paramour that earns a substantial salary and that paramour covers certain expenses for the parent. In this situation, courts have held that it is fair to grant a deviation in recognition of the fact that this parent does not have to pay said expenses and, instead, has a greater amount of their own income available for support of the child(ren).
If you are embroiled in a case involving child support, contact Scaringi Law's experienced family law attorneys to review your case and determine if you have an argument to alter the amount of child support you pay or receive.
Posted By
Scaringi Law
Categories: