An Overview of Pennsylvania Hunting Regulations - 2018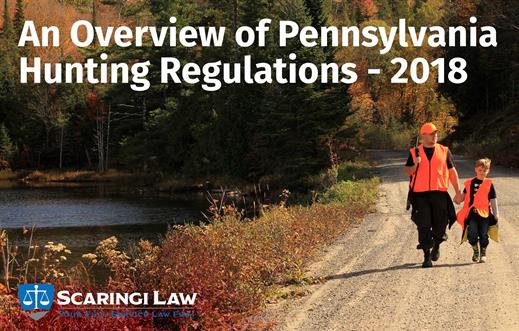 By Scaringi Law
The hunting season is upon us. For those of you who are interested in hunting, it is important to respect and follow Pennsylvania's hunting laws. Read below to familiarize yourself with the penalties for game and wildlife violations, the proper licensing requirements, some general regulations for when you're afield on a hunt, and what equipment you can employ when hunting.
What Are the Penalties for Violating the Game & Wildlife Code?
A Magisterial District Judge or Court of Common Pleas adjudicate cases involving Game and Wildlife Code violations. If the court finds that you have committed a serious violation of the code, it may impose fines and revoke your hunting and furtaking privileges.
How Do I Get a Hunting License?
If it is your first time hunting, you must have completed hunter education certification. After completing the certification program, you may purchase a Pennsylvania hunting or trapping license. The hunter education certification must be approved by the Pennsylvania Game Commission and International Hunter Education Association (IHEA-USA).
Someone with a hunting license may accompany an unlicensed hunter who only observes and does not participate in hunting activities.
Hunters must have valid documents that confirm their identification and residency, along with the proper hunting license. For more information on Pennsylvania hunting licenses, visit Pennsylvania's official website.
General Hunting Regulations
Here are a few of the general hunting regulations:
Disturbing Game or Wildlife. Unless you are hunting or trapping, it is unlawful to drive or disturb game or wildlife. This includes digging or removing a wild bird or animal from its den or place of refuge.
Drugs and Alcohol. It is unlawful to hunt when under the influence of a controlled substance or alcohol.
Littering. It is unlawful to dispose of garbage, bottles, cartons, containers, glass, paper or debris while hunting, unless in a trash or recycling receptacle.
Wearing Fluorescent Orange. In certain situations, hunters must wear fluorescent clothing items. For example, a minimum 250 square inches on the head, chest, and back combined that is visible 360 degrees during:
All small game seasons;
Deer, bear or elk firearms seasons; and
October muzzleloader antlerless deer seasons.
Mistake Kill. The carcass of any edible game wildlife that was accidentally or mistakenly killed must be immediately field-dressed and delivered to a Game Commission office in the county where it was killed. Any big game that was accidentally or mistakenly killed must be tagged with the proper big-game tag before moving its carcass from the kill location.
Road Hunting. The following activities are prohibited:
Hunting from a vehicle;
Aiding or assisting another while hunting from a vehicle;
Shooting at wildlife on a public road or publicly open right-of-way;
Shooting across a road unless the line-of-fire is high enough to avoid endangering road users; and
Using a vehicle to light and shoot at any wildlife if the shooter is within 25 yards from a traveled roadway.
Can I Use Electronic Devices?
In general, it is unlawful to hunt with any electronic device. Some exceptions include:
Electronic callers when hunting:

Bobcats
Coyotes
Foxes
Raccoons and crows
Snow geese during conservation season

Lighted sights or scopes that do not cast a light beam onto a target
Rangefinders that emit a light beam, infrared beam, ultraviolet light beam, radio beam, thermal beam, ultrasonic beam, particle beam, or other beam that is visible outside the device or on a target
Electronic tracking or locator lights affixed to the back of a bolt/arrow
Portable, two-way radios and cellphones used for general communications with another hunter
Hearing-aids that are incorporated into hearing-protection devices
Consult with a Knowledgeable Hunting and Firearms Lawyer
Although you can find a wealth of information regarding hunting regulation and safety compliance, finding simple answers to simple questions can sometimes be tough. If you have a question about Pennsylvania's Game and Wildlife laws, please contact Scaringi Law, or call us at (717) 775-7195 to have one of our knowledgeable hunting and firearms attorneyshelp you.
Posted By
Scaringi Law
Categories: